Alasdair Beckett-King (text) and Claire Powell (illustrator), Murder at the Museum (Montgomery Bonbon #1), Walker Books, February 2023, 288 pp., RRP $17.95 (pbk), ISBN 9781529501049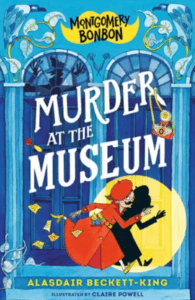 Bonnie Montgomery is a ten-year-old who notices when things are not quite right. Fortunately, in her guise as Detective Bonbon, Bonnie can apply her numerous crime-solving skills to illegal activity with great dexterity. With Grampa Banks at her side the only person in the whole world who knows the real identity of Detective Bonbon—Grampa is Inspector Bonbon's trusty off-sider and confidante. Together, they solve all sorts of mysteries.
In this first instalment, there has been a suspicious death at Hornville Museum and Bonnie is primed for action. In distinguished style, wearing a smart beret and displaying a magnificent moustache, Detective Bonbon miraculously appears on the scene to investigate and interrogate the suspects and witnesses. Something strange has been going on at Hornville Museum for some time and untangling the mystery is long overdue.
Multi-award winning comedian and author Beckett-King sets the quirkiness of this book from the very moment we are taken inside The Hornville Museum of Natural History and Suchlike. Apart from the grand age of the building, located in the unusual town of Widdlington, the museum's greatest claim to fame is its collection of weird and bizarre creatures displayed in glass cases. After a brief introduction of its inhabitants—animal and human—there is no doubt we are in for a creepy, crazy adventure.
The language is sharp and lively with a steady flow of humour throughout and the special relationship between Bonnie and her Grampa brings some lovely tender family moments amidst the crime-fighting detective work; a sweet reprieve from the mayhem. There were times when I felt the humour was a little forced, however, as the story progressed, it settled nicely into a jaunty rhythm.
The line drawings by well-known children's illustrator, Claire Powell are delightful. Powell has a real talent for capturing the varying personalities of the characters in simple skilful ink drawings – plus she has used the lovely addition of the ever-important ' removable and sometimes troublesome' moustache to highlight the page number on each page.
Montgomery Bonbon: Murder at the Museum is being promoted as a 'brilliantly funny young murder mystery' and, while it is certainly an enjoyable fast-paced fun mystery, I am looking forward to the next in the series to determine its brilliance.
Reviewed by Jennifer Mors