Ann Liang, This Time It's Real, Penguin Australia, February 2023, 352 pp., RRP $19.99 (pbk),  ISBN 9781761049804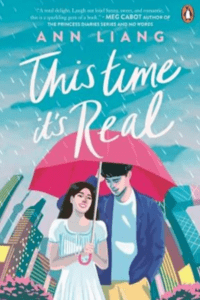 Eliza Lin never expected her English assignment about the love of her life to go viral. If so, she may not have made the whole thing up. But now the whole world seems to be invested in her 'relationship' and receiving the offer of a career-launching internship at her favourite magazine, Eliza is unwilling to expose herself. Instead, she approaches the famous actor in her class – the picture-perfect Caz Song – and, PowerPoint presentation in hand, proposes the 'Mutually Beneficial and Romantically Orientated Alliance to Help Further Our Respective Careers', or S.M.B.R.O.A.H.F.O.R.C for short. She'll help write his college applications if he poses as her boyfriend. And boy does he take on his new role.
Naturally, as Eliza starts to see beyond Caz's polished public persona, she begins to develop some unwanted not-so-fake feelings. Suddenly all of Eliza's carefully laid plans are threatened. Can she still follow her dreams if it means breaking her own heart?
Moving schools (and countries) almost every year, Eliza doesn't know where to call home. Now back in Beijing, she struggles with the disconnect she feels from the city that was once so familiar. Having previously felt the heartbreak of many lost friendships Eliza fears abandonment above all else – her attempts at self-preservation evolving into self-sabotage. Throughout the novel, Eliza attempts to hide behind logic, practicality, and meticulous preparation; an attitude I found somewhat frustrating, yet relatable. Additionally, Caz's own struggles with private life, social pressures, and the demands of the entertainment industry are explored. Two earnestly loveable and flawed characters, the story of Eliza and Caz is sure to hook readers by the heart.
Predictable and full of cliques, I still couldn't help becoming terribly invested in this bright and absorbing novel. Surprisingly sincere for a romcom, This Time It's Real is a delightful light read about home, identity, moral dilemmas, fear, and of course – love.
Reviewed by Libby Boas