Megan Bowen (text), Jelena Jordanovic-Lewis (illustrator), Mummy's Tummy Smile, Little Steps Publishing, October 2018, pp., $24.95 (hbk) ISBN 9781925545883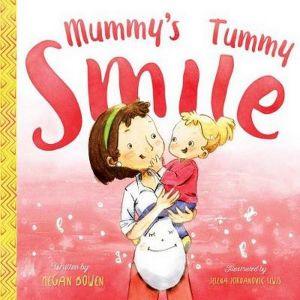 This is a book for mothers who gave birth via cesarean section and want to share their birth story with their child. The author wrote it after her own unplanned cesarean section to explain her scar to her inquisitive toddler. The story puts a positive spin on the scar left behind after a cesarean section, depicting it as the smiling mouth of the mother's stomach. The hero of the book is Mummy's tummy, at first keeping baby safe and helping it grow during pregnancy. And then, after a "quick slice" and baby is born, the tummy has smiled upon her ever since. It smiles at the girl as she reaches key milestones – walking, talking, riding a bike. And the upturned scar reminds the mother those tough parenting moments are worthwhile.
This book is bursting with love and shares that with little readers, but I felt the use of passive voice disrupted the story's rhythm somewhat.
The illustrations are colourful and very sweet, portraying a child who is clearly loved and treasured – her parent's delight. I particularly liked the picture of mum and dad preparing the baby's nursery and, later, the mother's tummy smiling as her face frowned while she was surrounded with washing. There's illustrated endpapers and shiny gold foil on the cover too.
Reviewed by Carissa Mason