David Almond, The Colour of the Sun, Hachette Children's Group, January 2019, 240 pp., RRP $16.99 (pbk), ISBN 9781444941135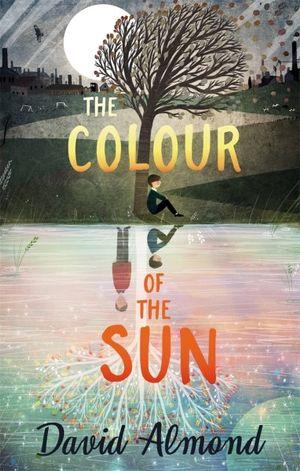 Young Davie wakes up to a perfect summer's day and decides to go for a long roam around his hometown in Tyneside, taking his sketching materials with him. He meets his mate Gosh who has discovered a body! This is Jimmy Killen, the arch enemy of Zorro Craig who is immediately suspected of the crime. The families of both boys have long been at odds and now they gather for a fight.
Davie gets away and continues his wanderings. He encounters Wilf Pew, the troubled one-legged man and a priest, Paddy, who is struggling with his vocation. As he climbs higher and higher he gets to Cooper's Hole where he used to go with his Dad who has recently died. There he dreams that his Dad speaks to him. The day is beautifully warm, and he drifts in an out of dreams and reality. When he awakes he is shocked to see Zorro Craig who claims he is innocent. Is Davie with a murderer or with a possible new friend?
This mystery story has all the trademark qualities that make David Almond a prize-winning writer. The idyllic beginning creates a timeless moment when 'the day is long, the world is wide, you're young and free', which Davie takes full advantage of. Adventure, the warmth of friendship, the possibilities of love all feature in a novel which is a carefully crafted celebration of life and nature. Almond himself has said that it embodies 'my constant astonishment at being alive in this beautiful weird extraordinary world'.
While the story is a simple little mystery there are constant notes on more important matters. 'Look at the wonder of the world', 'who knows what can fester in the human heart? 'perhaps there is no God', 'it's our life purpose', 'what are we doing, why are we here?' and other similar phrases are carefully placed in the text to raise our awareness above the mundane. This means that this book is not for everyone. Those more interested in the mystery and the action may become frustrated by what seem portentous divagations, but others will appreciate the depth and humanity of this beautiful, weird, extraordinary novel.
Reviewed by Mia Macrossan