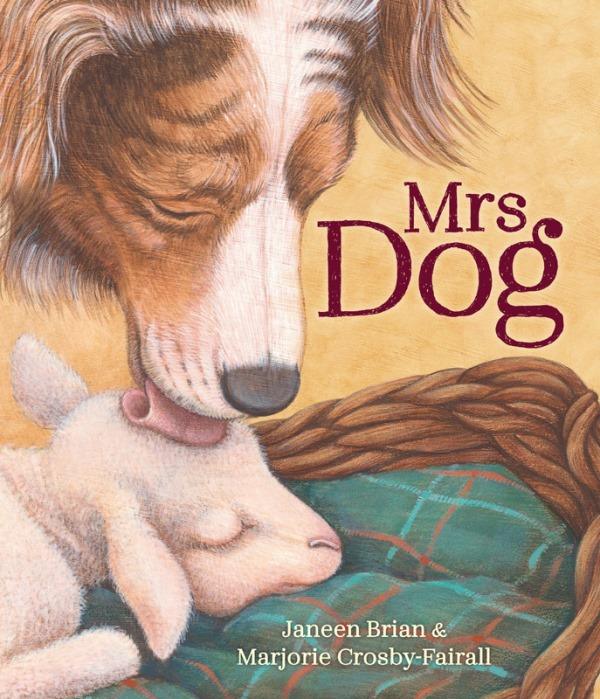 Janeen Brian (text), Marjorie Crosby-Fairall (illus),  Mrs Dog,  The Five Mile Press, May 2016, 32pp., $19.95 (hbk), ISBN 9781760066451
Unlikely friendships, inter-generational bonds, courage, tenacity and adapting to change all feature as the themes in this heart-rending tale of an old farm dog and a little stray lamb.
When Mrs Dog finds a tiny, weak 'Woolly-Head' in the paddock, her first instinct is to adopt and nurture him. Being too old to round up sheep anymore, Mrs Dog takes on a new role as protector, teacher and carer. She teaches little 'Baa-rah' all the tricks of the doggie-trade, including 'Beg', 'Belly-crawl', and 'Pounce', however 'Bark' seems a bit beyond his capabilities. But most importantly, she warns Baa-rah of the Dangerous Place; a steep ravine that only the 'Beaky-Wings' can escape. What follows is an agonising clutch at survival, depicted by mind-blowing perspectives and life-altering moments of bravery and determination. Where the ultimate favour of a life saved is returned, we are literally taken from the lowest of lows to the highest of highs. Janeen Brian brilliantly ties all the elements neatly together in a touching and uplifting ending.
With beautifully soft, textured quality and warming, earthy tones, the illustrations by Marjorie Crosby-Fairall perfectly complement the authentic, homely and wholesome nature of this humble narrative and endearing characters.
Mrs Dog is a timeless tale of love and generosity that young and old readers can share and treasure in their hearts for many generations to come.
Reviewed by Romi Sharp