Kitty Black (text) and Laura Wood (illustrator), Mr Bat Wants a Hat, New Frontier Publishing, May 2021, 32 pp., RRP $24.99 (hbk), ISBN 9781922326218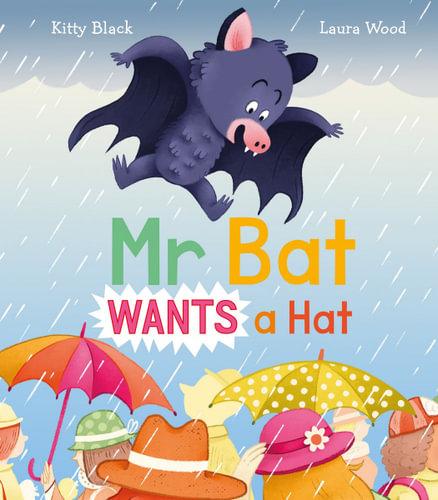 Mr Bat is a very contented bat until one twilight, he flies above the park and notices a sea of hats beneath him. Finally, he knows what is missing from his life! He tries to nab a hat but is swiftly sent packing until he glimpses a pink, glittery bonnet on a sleeping baby. He swoops in and steals the bonnet leaving the baby distraught. But Mr Bat doesn't care, not now he has his hat. Soon the baby's wails leaves everyone distressed, including Mr Bat who decides to return the hat, but, to his great surprise, the baby gives him her socks instead, which are perfect!
The illustrations capture the playful, childlike quality of Mr Bat as he transforms from self-obsessed bat to a bat with a conscience. The language is equally playful, with its twinkling twilights and batty bottoms, while Mr Bat learns important lessons about sharing, the feelings of others and that even though he may not always get what he wants, an unexpected gift from a stranger can be just as special.
Reviewed by Deb Abela