Nathan Luff (text) and Chris Kennett (illustrator), Raging Wool (Nerd Herd #2), Scholastic, June 2021, 144 pp., RRP $14.99 (pbk), ISBN 9781760974619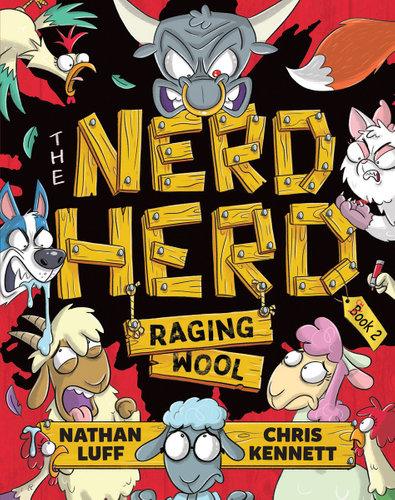 The Nerd Herd is a new illustrated book series, in bridging novel format. I very much enjoyed the tongue in cheek humour and light-hearted silliness of the first book. So, I was thrilled to receive the 2nd book of the series – Raging Wool – to review. And it didn't disappoint.
The second book continues the story of the three farmyard friends – Barny (a lamb), Sharma Llama and Billy the kid (a goat) – who now have a new problem to tackle. They haven't been able to enjoy the warmth and cosiness of the barn since it was taken over by the bad tempered and ferocious farm bull, T-Bone. Can they trick him into leaving the barn and returning to his pen?
In their efforts to oust the bull, there are a series of slapstick scenarios as Barny's courageous, and mostly ill-conceived, plans end in mayhem. There is plenty of silliness, subtle (and not so subtle) humour and plot action to enjoy in this second book. There's also lots of disgusting stuff in the farmyard for the kids who enjoy a dose of grossness.
I especially love the way the comical characters are developed. Barny is irrepressible, constantly making pun jokes and optimistic about his plans to remove the bull. Sharma Llama is cool headed and smart and expresses her disdain for Barny's jokes and poor planning with snide, sarcastic remarks and accurately directed spitting. Billy is vague and shows lackadaisical interest in Barny's plans, being more concerned with his lovely long fringe which gets in his eyes, rendering him half blind and constantly bumping into things.
Each page is filled with action-packed cartoon style drawings and the characters are drawn with animated, expressive faces. The images are an integral part of the comedy and energy of the story.
With only a few sentences per page, I recommend Raging Wool as a manageable read for newly independent readers, or as a fun shared reading with adults. The content is relevant to a broad age range (from 6 – 10 years old), making it a good option for older reluctant readers too.
Reviewed by Barbara Swartz