June Yu, Miscreation? (The Genetico Chronicles #1), Facet Media, November 2021, 466 pp., RRP $31.65 (pbk), ISBN 9780645248821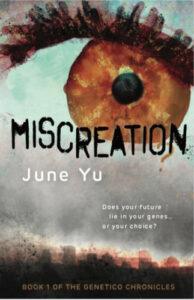 After the devastating Cyclone Years brought humanity to its knees the secret to survival was found in the perfection of genes, and hence the Genome Age began. By 2077 everything in life is genetically modified to be as efficient as possible, from food, to furniture, to people, and society appears to be thriving. However, on the fringes of society live the Miscreations, genetic experiments gone wrong. With questionable ethics around this genetic revolution, strangling societal roles, and prejudice growing ever stronger, the world isn't as perfect as it first seems.
Enter Natalia, a gifted 15-year-old with genetic predispositions for both music and science. When she chooses to follow a different career path to her parents, going against societal norms, Natalia truly learns the meaning of unintended consequences. Meanwhile, her cold-hearted mother is nurturing a world changing secret, and the government has been infiltrated by an underground group of Miscreations who are trying to expose the truth. With Natalia tangled in the middle of it all, her decisions could change everything, but will she choose family, community, or self?
Miscreation? by June Yu centres around the core themes of prejudice, and choice. It is set in a near-future where humans have found yet another basis on which to discriminate against and fear each other, and this is extremely prominent in the novel. Throughout the story the privileged protagonist Natalia is exposed to the harsh realities of her world, straining the bonds of family and friendship. Choice is another central theme of the novel, and as Natalia struggles with life-changing decisions it doesn't help that everyone desperately wants different things from her. But each choice she makes adds to her patchwork that will result in a complex and compelling character.
Miscreation? is a fun YA sci-fi novel with yet another determined young woman who cooks up a stew of trouble to feed the nation. The cliffhanger ending left me wondering and wanting for more. Readers aged 10 – 14 years who enjoy series such as Divergent or The Hunger Games may find a new favorite in June Yu's debut series, The Genetico Chronicles.
Reviewed by Libby Boas