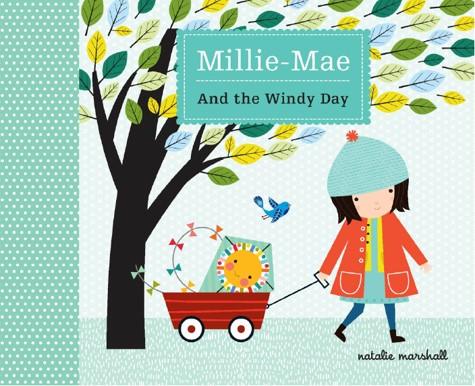 Natalie Marshall,  Millie-Mae and the Windy Day,  Five Mile Press,  March 2017,  10pp.,  $12.99 (board book),  ISBN:  9781760402785
Millie-Mae is a friendly and curious child who inquisitively explores elements of her world through play.
 "Millie-Mae loves windy days!"
The tree and leaf illustrations capture the movement of wind and blow in the direction of the story. I particularly like the shiny and sparkly raised elements of the pictures which create a touch and feel element of the story. I also appreciate the reoccurring presence of the little bear, pink rabbit, and blue bird throughout the story. This technique is something I have experienced children noticing; which provides further ways of exploring this book. 
The language used is simple and specific which supports the engagement of young readers. It feels relatable and realistic through moments like Millie-Mae putting on her coat and hat before going outside.
Millie-Mae's adventures capture the joy and magic of every season by exploring the different opportunities they provide, like flying a kite on a windy day.
Reviewed by Raquel Mayman