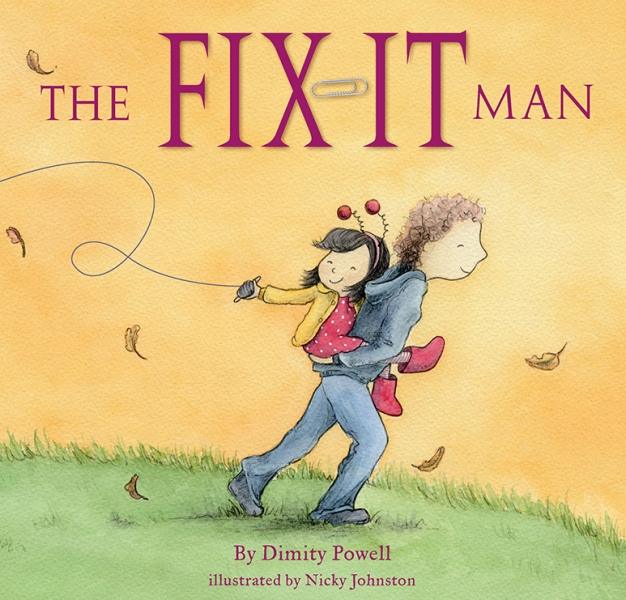 Dimity Powell (text),  Nicky Johnston (illus.),  The Fix-It Man,  EK Books,  March 2017,  32pp.,  $24.99 (hbk),  ISBN: 9781925335347
"A hopeful story of life, loss and love."
It's important for children to develop the resilience to cope with life and its sometimes difficult occurrences. Loss is something we will all experience at some point in our lives, but is often one of the hardest experiences to discuss with children. 
With my own children, I approach challenging experiences or events with honesty and intention. Having said that, I'm always on the look out for thoughtful and meaningful books which support our discussions and varied experiences. The Fix-It Man is a gentle, yet truthful, exploration of love, loss, death, and grief. 
The girl in the story views her dad as a fixer who can fix almost anything – just not her mum who is unwell. After the loss of her mum, the story captures the different ways in which others experience grief, including pets. There are noticeable changes in the house, in characters' appearances, and in the reversal of roles. As her dad is consumed by grief, the little girl takes on the fixer role; supporting her dad to begin his journey of healing.
My favourite part of this book is the importance of family; how we support each other and bring out the best in each other, despite the difficulties life throws our way. 
Loss is inevitable but with tools like this story I believe children are empowered to navigate new and difficult life experiences or to relate to others during challenging times. 
Teacher's Notes are available on the EK Books website.
Reviewed by Raquel Mayman