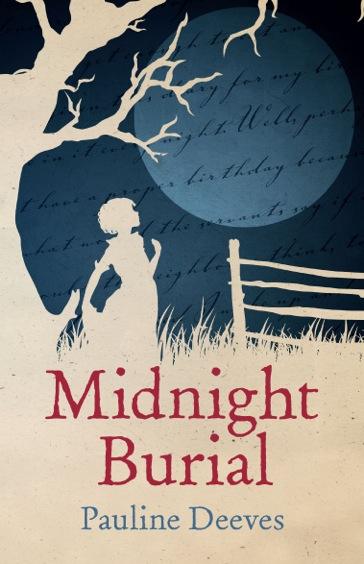 DEEVES, Pauline Midnight Burial NLA Pub, 2014 80pp $14.99 pbk ISBN 9780642278500 SCIS 1656081
This book is narrated by several people through diaries and letters.  It is set on a remote country station in 1868.  It covers six months in the lives of the Williamson family and their sheep station.  The main narrator is ten-year-old Florence, who keeps a diary of all the happenings in her life.  The story starts with the death of Florence's older sister Lizzie from a fever.  The family try to keep things together after this tragedy, and keep on with their everyday lives – organising the shearing, managing a large property and many workers, and dealing with bushrangers.
The reader can see that the circumstances around Lizzie's death are odd, but Florence herself seems absorbed in her own activities and doesn't notice.  Although the blurb claims '… Florence sets out to discover the true story of what happened to her sister' this is misleading as Florence doesn't do anything of the kind.  The truth about Lizzie is revealed at the end, though not through any actions of Florence's.
As a piece of historical fiction it does a good job overall of showing how people lived at this time and what their daily lives were like, especially as there are some useful historical notes at the back.  There is also an interesting twist at the end.  However, the diarist narrative technique is a tricky one and there are some flaws in this text.  The design of the book isn't that great, but the photos (taken from the National Library's collections) do add some interest.
reviewed by Rebecca Kemble