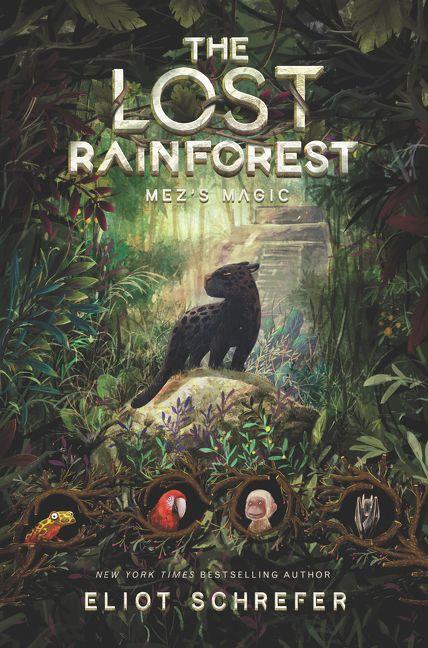 Eliot Schrefer (text), Emilia Dziubak (illus.),  Mez's Magic (The Lost Rainforest #1),  HarperCollins Australia,  18 Dec 2017,  368pp.,  $14.99 (pbk), ISBN 9780062839596
The magical rainforest of Caldera is home to a wide variety of animals – some walk by day, others by night.  Each is suspicious of the other so they must remain vigilant in the deep darkness of their jungle home.   But young panther cub, Mez cannot understand why she is so wide awake at night when indeed she is not a nocturnal creature.  That is, until she meets Auriel, a wise boa constrictor of enormous proportions, who explains about shadow walkers – those born in an eclipse – who possess secret powers and are not hindered by the light of day or the veil of night.  But there is evil within the jungle which threatens the ordered existence of Caldera.  With the help of some loyal companions, Mez will need to gather all her courage on the quest to conquer the pending threat to their rainforest home.
Mez's Magic is an engaging thrill-a-minute adventure with as many twists and turns as a boa constrictor.  Each new chapter of this book presents a new challenge that will require resilience, problem solving and team work to overcome the numerous dangers Mez and her friends are confronted with every day. And there is no glossing over the perilous nature of the quest; it is stark, frightening and fatal at times for those involved.
This book takes us into another world; the mysterious magic of the rainforest where all within must learn to live by their instincts for survival.  Eliot Schrefer has created rich characters – panthers, monkey, bat, frog, boa constrictor … and those ants.  Some are humourous and lovable while others are deceitful, unforgiving creatures; all are complex and we can never be sure what we will discover about them.
Eliot Schrefer is a New York Times best selling author, twice listed for the National Book Award in Young People's Literature and winner of Green Earth Book Award and the Sigurd F Olson Nature Writing Award for Children's Literature.  His novels include Endangered, Threatened, Rescued and two books in the Spirit Animals series.
Schrefer's love of nature and his affinity with the animals that inhabit his imaginary worlds is very evident in his delightful writing style. The length of Mez's Magic may make it suited to 10 to 12-year-old individual readers, however the chapter structure and delightful illustrations by Emilia Dziubak, make it equally accessible as a read-out-loud story to share.  That is, only if you can cope with the suspense.
Reviewed by Jennifer Mors