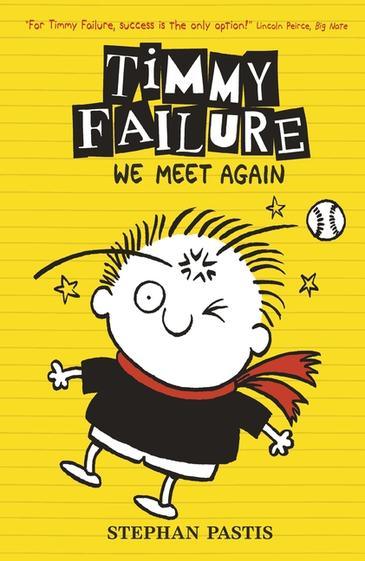 Stephan Pastis,  We Meet Again (Timmy Failure #3), Walker Books,  1 March 2016,  288pp.,  $12.99 (pbk), ISBN 9781406363715
We Meet Again ungracefully graces us with its unputdownable presence. By international, best-selling author, Stephan Pastis, this is the third book in the popular funny series about an injudicious boy detective on a very important mission; to triumph in his quest for global domination.
This graphic novel for pre-teens takes its readers into the mind of the unusual, somewhat disturbed 11-year-old Timmy, who would much rather focus on expanding his detective agency than his good grades and social skills. Timmy's success basically rides on his imagination, but his consistent scepticism of the intentions of his struggling single mother, his teachers and a select few students makes life insufferable… for them. Ignoring the fact that he is teetering on the edge of expulsion (again), Timmy puts all efforts into solving his newest case – the case of the missing, highly sought-after, legendary Miracle Report. However, his lack of attention to actual school work and sarcastic attitude often land Timmy in the most unfortunate of situations. Some include being socked in the head during baseball practice with the hairy-chested Coach Drillashick (or 'Drill-a-Kid' according to Timmy), and being paired with the EVIL beast, detective competitor, Corrina Corrina on the all-important Nature Project. He also faces the pressures of bullying, sleeping in darkness and the possibility of coming face-to-face with the mythical creature, Scrum Bolo Chihuahua at Camp Monkeychuck. But Timmy finds the light and discovers that things are not as he might have once expected. Although, he's not giving up his quest for Greatness… just yet!
With its quirky, hilariously-named characters, wry sense of humour and droll language, amusing comic illustrations and authentic nuances, We Meet Again delivers warmth, action, mystery and several life lessons. Children from age 8 will devour, and may even relate to, Timmy's misgivings and pitfalls. There are also opportunities to explore different facets of complicated school and home life as well as personal challenges and insecurities.
Fun activities, games, Timmy's latest cases and the Failure, Inc. newsletter can be found on a dedicated website.
Reviewed by Romi Sharp