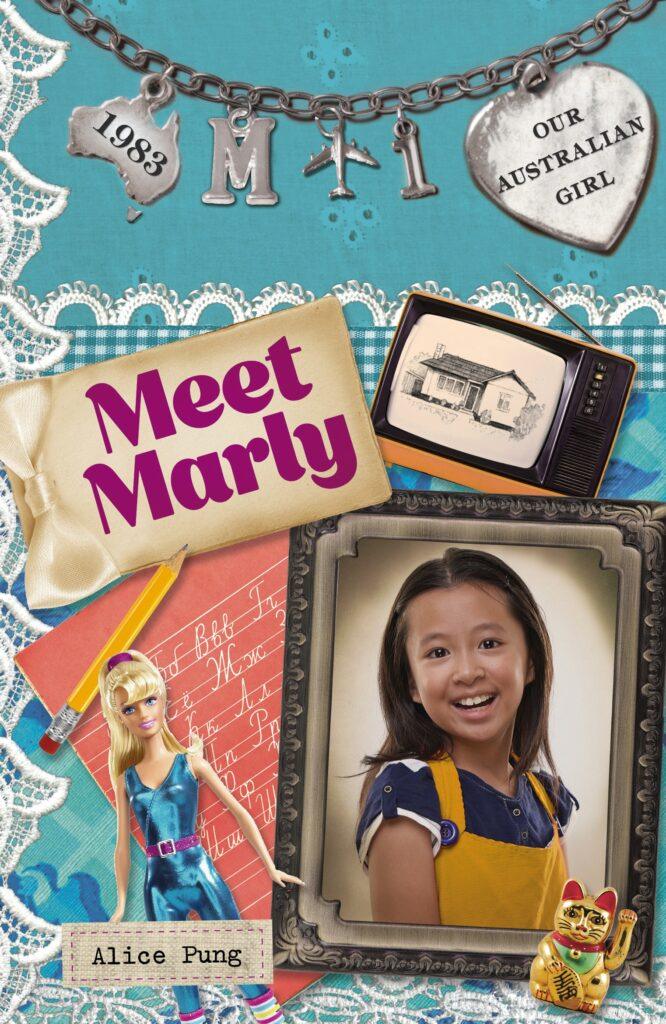 Alice Pung, Meet Marly (Our Australian Girl #1), Puffin Books, 28 January 2015, $14.99 (pbk),  144pp., ISBN 978 0 14 330849 2
Meet Marly is the first book in the series Our Australian Girl, a series of books for girls aged eight to twelve, looking at Australian history. This story is set in 1983 and the heroine's family, who escaped from Vietnam when Marly was two, are now very settled in the suburb of Sunshine. Marly, formerly MyLinh, now attends the local primary school, speaks English fluently and has made Australian friends.  In other words, she fits in. However, everything changes when one branch of her family is found and they move to Australia and into Marly's house.
Marly finds her cousins difficult; they don't know how to eat cereal, they don't know what a toilet brush is for, they find a shopping centre amazing and they speak to her in Cantonese in front of her friends. Tuyet is particularly irritating because she is helpful around the house and can do a Rubik's cube puzzle. Marly's Australian friends are becoming difficult too; they're nasty to her cousins and want to spend their school breaks playing Barbie Dolls. Marly has my sympathy here; I always loathed Barbie Dolls.
Alice Pung, the author, is not unfamiliar with Marly's plight. Her parents came to Australia from a refugee camp and Alice was born one month after they arrived. Like Marly's family, they also learned to live in such a different country. Pre teen girls will also be able to identify with Marly with the age old problems of unreliable friends, parents comparing you to a smug, well behaved relative and confusion about who you are but wanting desperately to fit in. These are problems all little girls face, regardless of culture.
Meet Marly also provides a subtle education to the problems refugees face: the lack of vocational and educational opportunities, the frustration over language difficulties and the clash of traditional expectations and the expectations of a new society. Tuyet may be incredibly clever but her father sees her as only a girl and she goes to a school where she can't speak the language because she has only been taught to read and write it.
Meet Marly is the first in a series of four about Marly's adventures in Australia.
reviewed by Katy Gerner