Tom Percival, Meesha Makes Friends, Bloomsbury, September 2020, 32 pp., RRP $14.99 (pbk), ISBN 9781526612953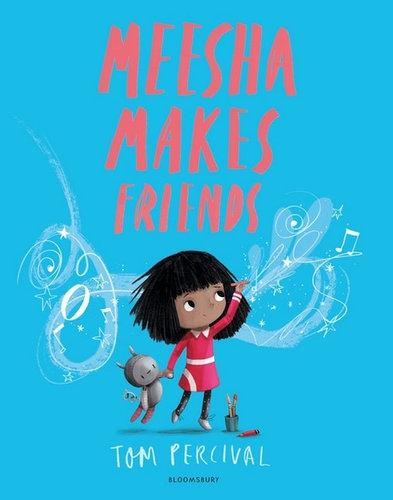 Meesha loves to make stuff but has trouble making friends. In classic kid-thinking, she decides to make her own friends using recycled bits and bobs, paints, pencils and 'all her other tools'.
This is likely to be a helpful book for kids who find it difficult to relate to others. There's a bit of visual humour thrown in as well. For example, Meesha's newly created friends aren't very good at tennis or football or catch.
The fourth in author-illustrator Percival's Big Bright Feelings series, Meesha Makes Friends aims to help kids with emotional intelligence. Other titles to look out for are Ruby's Worry, Ravi's Roar and Perfectly Norman.  
When Meesha attends a party, she worries she'll have no one to play with. She goes off by herself to 'make friends', attracting the attention of a like-minded, lonely boy. The pair become busy creating new 'friends' and eventually attract the attention of other party guests who are captivated by their creative play. The implication being that new friendships will abound.
Reviewed by Heather Gallagher