Marc Martin, Masters of Disguise: Camouflaging Creatures & Magnificent Mimics, Penguin Random House Australia, 56 pp., RRP $26.99 (hbk), ISBN 9781760895891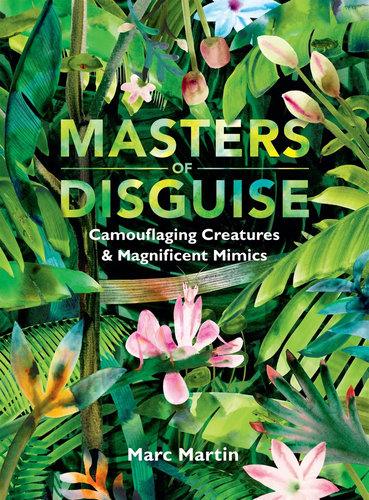 There are few things more exciting than opening a package of books to review for Reading Time. Perhaps discovering that one of the books is by Marc Martin, one of my favourite Australian illustrators, could be one of them. Like all of his books, this one, titled Masters of Disguise: Camouflaging Creatures & Magnificent Mimics, is incredible. Beautiful, fascinating, well-written and educational, it's a delight to read and explore with my children.
There's a predictable, repetitive structure to this book—first open a double-page spread that introduces an animal that can blend into its environment, then turn the page for a richly illustrated and colourful habitat. Blending into these habitats are the animals we've learned about. Can you find 11 owls? 12 ornate wobbegongs? 13 orchid mantises? It's not an easy task. Along the way spot other creatures, flowers, and plants, all depicted in great detail with layers of watercolour.
The text is informative and easy to understand, but also wonderfully descriptive. There are plenty of interesting facts to learn and marvel over. Did you know, for example, that the tufts of feathers on the great horned owl's head are not really their ears? Or that sloths are actually speedy swimmers?
Adding to the enticing quality of the book, is the textured hardback cover, and the heavy matte paper pages. For kids who have an interest in geography, there's also a map showing where each of the animals lives, inside of the front and back covers.
I highly recommend Masters of Disguise. Both my 2-year-old and my 8-year-old are enthralled by it, as am I. I imagine this would interest children from early childhood right through to upper primary school, especially nature lovers.
Reviewed by Bec Blakeney