Obama, Michelle, Becoming: Adapted for Younger Readers, Penguin Random House, March, 2021, 406 pp., RRP $29.99 (hbk), ISBN 9780241531815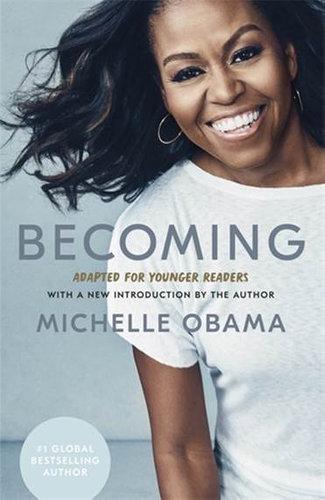 I approached this autobiography with some apprehension: I have little interest in politics in general, let alone US politics. However, Michelle Obama's memoir is less about politics and more about her life's journey. By sharing her story, she hopes that she will inspire her readers (and young women in particular) to think about their own [story], because it's the most beautiful gift you'll ever have.
She recounts her childhood with warmth and deep affection for her family and for the neighbourhood where she grew up – the South Side of Chicago. The first line of her book: I spent much of my childhood listening to the sound of striving, immediately informs the reader that Michelle Robinson did not come from 'money'. Throughout her life, she struggles and fights for what she wants. There's an age-old maxim in the Black community: You've got to be twice as good to get half as far. I think that this maxim can also be applied to women.
At twenty-five she was working in a fancy law firm and was asked to mentor an incoming summer associate: his name was Barack Obama. They fell in love and the rest is, as they say in the classics, history!
What makes this memoir so engrossing is Obama's constant questioning of herself and her abilities and how she can help to make the world a better place. She questions the traditional roles of 'wife' and 'mother', but at the same time embraces both roles, but on her own terms. One of her early role-models was Mary, from The Mary Tyler Moore Show, who was 'independent and funny', unlike the stereotypical mothers/wives portrayed in the majority of television shows of the time.
As an Australian, it is extraordinary to read that voting is not compulsory in America and how hard it is to convince the population that it is in their best interests to register to vote. (For example, in the 2020 election, roughly 66% of the population voted, the highest figure since 1900.) There are a number of chapters describing the campaigning process, which may be a little dry for some. I must confess to skimming (just a little!).
When Barack was sworn in as the forty-fourth president of the United States in January 2009, he was joined by Michelle and their daughters, Malia aged ten, and Sasha aged seven. The chapters describing their eight years in the White House are full of fascinating details, which will appeal to younger readers, particularly how this impacted on the two girls' lives.
This is a big book, with a lot of information. I hope that younger readers are not deterred by its size, as Michelle Obama's story is inspiring, particular for young women.
Highly recommended for readers 13+
Reviewed by Gaby Meares