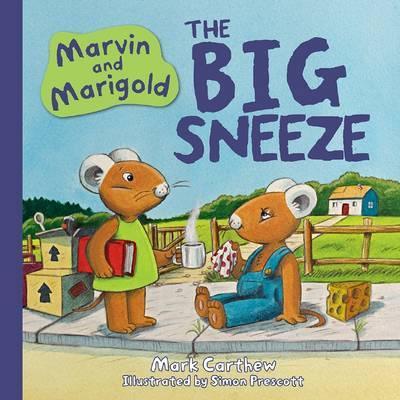 Mark Carthew (text), Simon Prescott (illus.). Marvin and Marigold: The Big Sneeze, New Frontier,  1 June 2016,  32pp.,  $24.99(hbk), ISBN 978925059656 
Marvin and Marigold are two mice that live next to each other, but Marvin's huge sneezes are destroying poor Marigold's house. When Marvin announces he's moving away, Marigold decides to help him cure his sneezes instead.
This storyline folds the themes of friendship, kindness and problem solving together. The story is written in rhyme and it is easy to get into a rhythm when reading this book aloud.
The watercolour illustrations contain a lot of detail to keep little eyes busy, and I especially loved the theme of houses and furniture being made from recycled goods such as wool, felt and bricks.
Overall it's a lovely story backed up by thoughtful illustrations.
Teacher's Notes are available on the New Frontier website.
Reviewed by Jane Carstens