Kesta Fleming (text) and Marjory Gardner (illustrator), Marlow Brown: Scientist in the Making, Celapene Press, October 2019, 72 pp., ISBN 9781925572186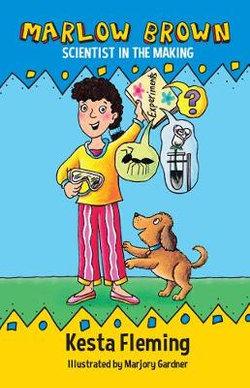 Society's growing awareness of gender stereotyping and equal opportunity has been filtering through the children's literature scene for several decades. While there are still more male characters in books for children the scales do seem to be balancing out. And because of the awareness of the historical imbalance the, female characters that are being written are often carefully thought out by their creators and are determined, talented, brave, and they succeed (on their own merits), in traditionally male endeavours.
This debut chapter book, Marlow Brown: Scientist in the Making, features just such a character. Marlow is an upper primary school-aged girl whose new hobby is thinking up and carrying out scientific experiments. She persists with her plans and demonstrates a determination that every parent hopes their daughter exhibits. Well, every parent except for Marlow's. Marlow documents her procedures and results, and this makes up a significant portion of the book's text, which is an interesting and unique way of presenting a story.
I would put this book in a very narrow space between early chapter books that assist learning to read and middle-grade fiction where independent reading for pleasure is fully established. It is slightly longer than Aussie Nibbles stories and slightly older than Ella and Olivia or Ginger Green type books. One aspect that particularly puts this in the upper primary years' category is that Marlow's parents oppose her ambitions, which is a more 'tween' theme.
I really enjoyed this book and think it will fill a niche gap in the market for Grade 3 and older who want to learn about science and experimenting in a fictional setting, with a little undercurrent of continuing despite setbacks and feeling unsupported.
Reviewed by Cherie Bell