Aaron Blabey, The Baddest Day Ever (The Bad Guys #10), Scholastic Australia, October 2019, 140 pp., RRP $14.99 (pbk), ISBN 9781742993720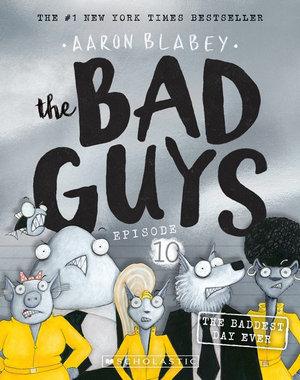 This is the much-anticipated conclusion to the Bad Guys' adventures (so far). A while back I reviewed Episode 8 (Superbad) and was delighted to have the chance to review this one.
When we left them at the end of Episode 9, Dr Marmalade's alien buddies were destroying Earth, the Good Guys Club had lost their superpowers, and Mr Snake was missing, presumed dead. Mr Wolf is ready to give up.
But all is not lost. The remaining Good Guys, along with the International League of Heroes, rally and prepare to fight back. With the return of an old friend, some new friends and the help of a T-Rex, hope is restored. This time, they come up with a plan that sees them fight smart, not hard and together they are stronger than ever. Right up to the explosive, surprising conclusion.
There are many themes at play in this series. Aaron Blabey is well known for his anti-heroes but The Bad Guys series also delivers a team of kick-butt women – the International League of Heroes – who show the Bad Guys what it takes to be a Good Guy. There are themes of trust, self-belief, friendship and a healthy dose of team spirit.
Once again, Aaron Blabey delivers the laughs, the nail-biting twists and the superhero action in what is NOT the last of The Bad Guys. The series is perfect for reluctant readers and fans of graphic novels.
Reviewed by Pam Ueckerman