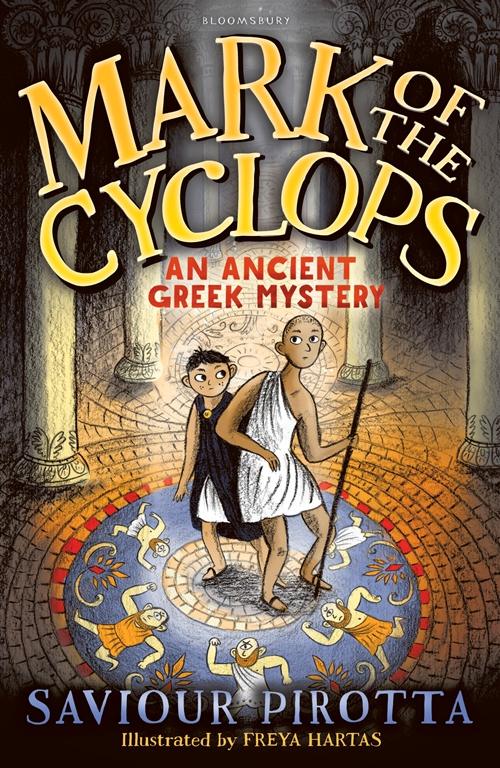 Saviour Pirotta (text),  Freya Hartas (illus.),  Mark of the Cyclops: an Ancient Greek mystery,  Bloomsbury/Allen & Unwin,  June 2017,  208pp.,  $12.99 (pbk),  ISBN: 9781472934147
Mark of the Cyclops is the promising first instalment in an historical fiction series for younger readers. It follows the adventures of Mico and Thrax in Ancient Greece, where slaves are commonplace and punishments for their misdemeanours swift and cruel. Thrax is a slave boy who has a knack for solving puzzles. His friend Nico, the narrator, is a free-born scribe who dreams of writing his own stories.
After arriving in Corinth, they set out to solve the mystery of a broken vase, the fate of a slave girl hanging on their findings. The mystery is very well conceived and executed, with clever twists and turns throughout – certain to keep young readers engrossed and engaged. Thrax leads the investigation, with Nico in a supporting role, although I kept hoping Nico, too, might share in some of the deduction.
Mark of the Cyclops would provide a great starting point for a class discussion on the subject of slavery, as it impacts the story on a number of levels.
A comprehensive glossary explains the Greek terms scattered throughout. Being curious of mind, I couldn't resist looking them all up as I came across each one, which took me out of the story more than I would have liked. Perhaps explanations of a few more of them could have been integrated into the story itself. But admittedly, the inclusion of so many words in the original language did make for rich immersion in the story's world, as did the accompanying map and charming black and white illustrations.
Suitable for readers 8+.
Reviewed by Elizabeth Foster