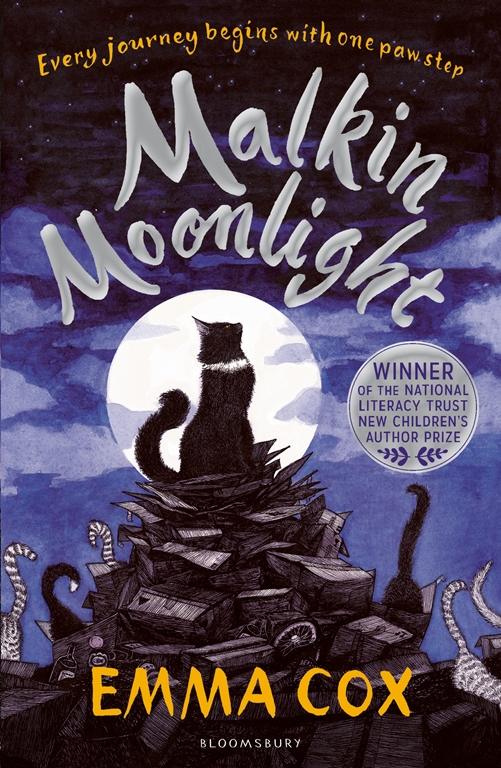 Emma Cox,  Malkin Moonlight,  Bloomsbury/Allen & Unwin,  Sept 2016,  272pp.,  $12.99 (pbk),  ISBN: 9781408870846
Malkin Moonlight is the story of a wild cat who has been blessed by the moon. The moon recognises his special qualities of kindness and courage and so names him after itself and with blessings sends him on his way to do good.  Malkin makes his way in the world and, when he befriends a domestic cat, Roux, enjoys the comforts of domesticity.  There is little drama and suspense in this early part of the story as the cats' adventures are limited to exploring the nearby beach and river and rescuing animals in peril, making me uncertain that the book would hold most children's interest.
But later the plot becomes more complex when Roux and Malkin are betrothed and find a home amongst a group of cats living at the Recycling Centre.  These cats are at war with the scruffy cats, "Petruscibles", who live in a separate part of the Recycling Centre.  There are some tense moments when Malkin and his friends become embroiled in dangerous, violent scuffles with the Petruscibles.  Nonetheless, with Malkin's kindness and belief in the goodness of other cats, he gains the trust of the Petruscibles and negotiates peace between the two warring cat gangs, but not before he rescues the Petrusicibles from a new perilous threat.  An interesting discussion point for upper primary classes could be the parallels between the Recycling Centre cats' dispute and some modern day international disputes.
The language has a literary style – though still contemporary – with strong imagery that evokes vivid descriptions of the cats, the scenery and events.  Other strengths are the originality of the story and the use of the character of Malkin – being a cat-like wild cat, albeit with anthropomorphic emotions and motivations, he is an unusual protagonist in contemporary children's literature.
Although the book's language is beautifully crafted, it seems to me unlikely that it would qualify as a great piece of contemporary children's literature. The plot develops so slowly at the beginning of the story and the story line lacks sufficient complexity. The complex dispute between the warring cats seemed too easily resolved.  In addition, Malkin's character is flat – we don't see significant character flaws or character growth and development
I recommend this book for confident readers in the Yr 5/6 age group who would like to experience a novel with a difference.   It could also work well as a reading, in installments, by an adult to younger children.
Reviewed by Barbara Swartz