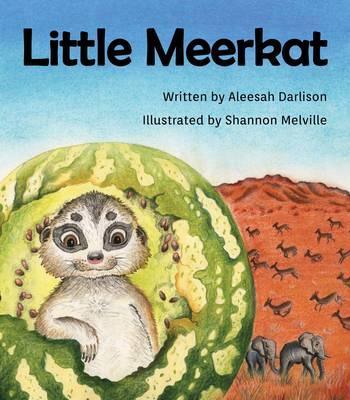 DARLISON Aleesah (text) Shannon Melville (illus.) Little Meerkat Wombat, 2014 unpaged $24.99 ISBN 9781921632822 SCIS 1644963
Little Meerkat is ready to exercise his independence.  He wants to prove that he is no longer a baby but a bold and intrepid explorer.  His extended family insists that he must wait to be an adult before he can participate in trekking, scouting and other exciting activities.
Aleesah Darlison has employed the techniques of repetition and alliteration to make this story a fun reading experience as Little Meerkat goes adventuring.  When the snake discovers him alone, the sonorous, sibilant sentences are a delight to read aloud as Little Meerkat discovers the benefits of having a huge family around him and also learns the importance of listening to his elders.
Evocative illustrations highlight the perils that surround the meerkat family.  Their personalities are expressively depicted in facial features that skilfully reflect their changing moods.  Many double-page spreads of reds and oranges, browns and yellows capture the African setting.  Text and illustrations work beautifully together in this picture book to produce a worthwhile addition to all classroom libraries for children between the ages of four and eight years.
reviewed by Grace Nolan