Lauren James, Green Rising, Walker Books, September 2021, 384 pp., RRP $18.99 (pbk), ISBN 9781406384673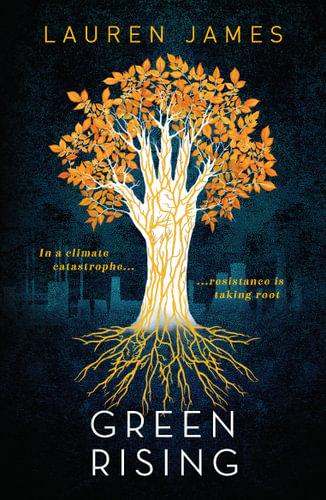 In a near future where climate change is making Earth uninhabitable, three teenagers from drastically different backgrounds are brought together by a supernatural power developed by young people around the world: The ability to grow plants from their skin. A power that sprouts new hope for their planet.
But in a world where corruption and greed are wrought, some companies seek to use the so-called "Greenfingers" for their own means. Not everyone wants the planet to be saved.
Gabrielle, Hester, and Theo realise that it's up to them to save the planet from these profit-hungry corporations and sub-standard political policies. As they navigate through lies, first love, and family expectations, they must work together to pull off an incredible feat. To start a green rising.
This is an extremely relevant novel for today's society, where students are protesting for better climate policies across the globe. It discusses how fear can be both paralysing and motivating, and issues of morality in whether the outcome outweighs the means.
The story switches between perspectives of the main characters who I felt were pretty realistic and relatable. There is great LGBTQIA+ representation, with Gabrielle being aroace (aromantic and asexual), and other nonbinary and queer characters featured. Theo talks about his shame around being dyslexic, but also the ways he's found to overcome difficulties and thrive. I really liked how it showed these things as just elements of identity and not a whole personality, with characters having struggles and aspirations unrelated to them.
A call to arms, Green Rising by Lauren James is an exciting and empowering YA novel that is a must-read for any young activist.
Reviewed by Libby Boas