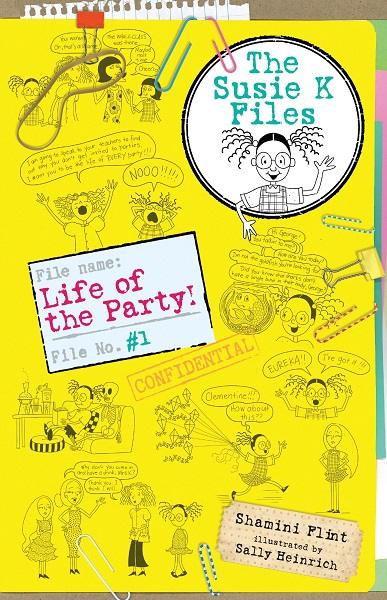 Shamini Flint (text), Sally Heinrich (illus.), Life of the Party (The Susie K Files#1), Allen & Unwin, Jan 2018, 96pp., $9.99 (pbk). ISBN: 9781760296681
Susie K is a likable introvert with a highly-strung mother who expects her to be the life of the party. This 'odd couple' phenomenon generates the story and accounts for much of the humour in this new chapter book series for emerging readers.
Susie's mum arrived in Australia from Sri Lanka as a refugee and consequently wants Susie to seize every opportunity.
Mum, I really don't enjoy playing the violin…

When I was your age we didn't have music lessons…because every single instrument was destroyed by bombs.                                                                                                                                 (p18)
When Susie's mum discovers that Susie has missed out on being invited to the latest school-kid party, she's ropable and threatens to speak to Susie's teachers to get to the bottom of the problem. Ever inventive, Susie decides the solution is to get invited to a party being held by Clementine; the most popular girl in school. Susie uses her science prowess to come up with various kooky ideas to get herself invited.
The book is presented Wimpy Kid style with illustrations and speech bubbles on every spread. The stylistic presentation combined with the nerdy character is likely to give the series widespread appeal.
Reviewed by Heather Gallagher