David Gullan (text) and Suzanne Houghton (illustrator), Life in a hollow, CSIRO Publishing, April 2023, 32 pp., RRP $24.99 (hbk), ISBN 9781486316342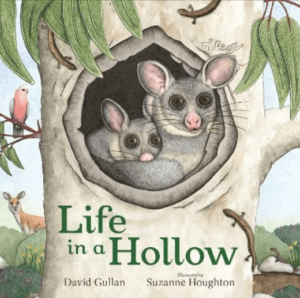 Life in a hollow, a delightful picture book by David Gullan with illustrations by Suzanne Houghton, offers young readers a journey into the heart of the Australian bush, where tree hollows become the homes of a diverse range of native creatures. This beautifully crafted book not only entertains but also educates, making it a valuable addition to any child's library.
The book's narrative invites readers to explore the enchanting world of tree hollows and discover the array of animals that call them home. From the tiniest Longhorn beetles to Brushtail possums, each species is brought to life through lyrical prose and endearing rhymes. The author's storytelling skillfully captures the essence of these creatures and their unique relationships with the tree hollows they inhabit.
Suzanne Houghton's illustrations are a visual delight, adding depth and warmth to the narrative. The soft, friendly, and inviting artwork showcases the beauty of the Australian bush and its inhabitants. Even the most "squidgy skinks" and "creepy crawly beetles" are depicted with a charm that makes them relatable and endearing to young readers.
What makes Life in a hollow particularly commendable is its educational value. The book doesn't just tell a story; it also imparts important information about the significance of tree hollows in the ecosystem. It explains how these hollows are created, how different species adapt them to their needs, and why protecting the trees that provide this valuable shelter is crucial. The inclusion of a glossary and additional facts in the final pages makes the book a valuable learning resource.
The simplicity of the rhyming couplets and the engaging storytelling style make this book accessible and enjoyable for early to primary years students. It sparks curiosity, fosters imagination, and encourages conversations about nature and conservation. As a result, Life in a hollow not only entertains but also inspires young readers to appreciate the wonders of the natural world and become stewards of the environment.
Life in a hollow is a heart-warming and educational picture book that deserves a special place on the bookshelves of children and educators alike. David Gullan and Suzanne Houghton have created a treasure that will inspire young imaginations while instilling a deep understanding of the importance of preserving the delicate balance of the Australian bush.
Reviewed by Geni Kuckhahn