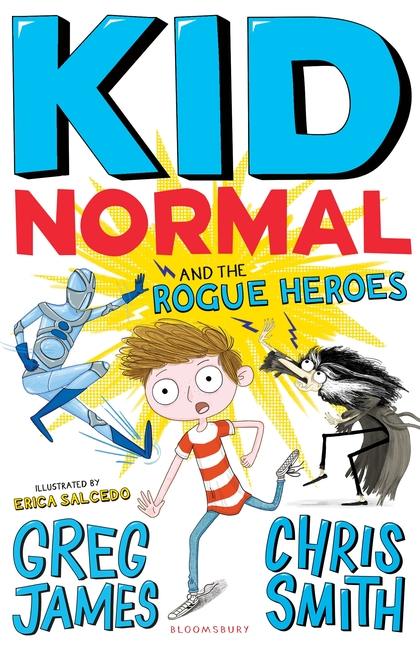 Greg James and Chris Smith (text), Erica Salcedo (illus.), Kid Normal and the Rogue Heroes Bloomsbury Australia, 1 June 2018, $12.99 (pbk), ISBN: 9781408884553
This book speaks action from the moment eyes are laid on the cover. With a distinct appearance of red tinged page edges, the inside is interspersed with clever drawings adding life to the characters, story and overall book personality.
Kid Normal, a kid named Murph, is a normal kid who does things a typical kid wouldn't be doing i.e. secretly being part of a Heroes alliance. He and his friends the Super Zeroes work together to fight baddies and villains. They are confronted with an epic battle, as they come face to face with the most feared supervillain in the world, whose evil powers and ability are extremely sophisticated and intimidating. How does Kid Normal, with no official superhero superpowers, fare in this battle? Are his friends up to the task of helping him defeat this mastermind villain?
The Super Zeroes problem solving skills are put to the test, as we witness how they use and combine their unique strengths within their crime fighting. The book encompasses so many themes – loyalty, friendship, teamwork, community, trust, collaboration and how hard it can be sometimes to keep a secret!
Young readers will enjoy the inspiration that comes with a story showcasing, an ordinary kid doing extraordinary things; encouraging Kid Normal to become the reader's likeable friend. Although there is very serious business for this group of kids to take on, the humour throughout the book is so very cleverly master pieced, with its cut away moments from the story to speak directly to the reader – it adds a whole new dimension of humour, personality and connection between the writers and the reader.
This is the second title in the popular series by Greg James and Chris Smith, and it certainly is a book that leaves you wanting more, which is well crafted, as a third title in the Kid Normal series is due out in 2019.
Reviewed by Sonia Bestulic