Adam Kay (text) & Henry Paker (illustrator), Kay's Anatomy: A complete guide to the human body, Penguin, October 2020, 416 pp., RRP $29.99 (pbk), ISBN 9780241452943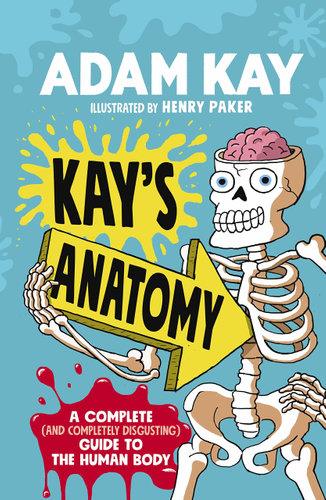 Kay's Anatomy may be Adam Kay's first children's book, but it is very unlikely to be his only one. Kay is a bestselling UK adult author, currently performing shows about his first book This is Going to Hurt.
In Kay's Anatomy, Kay's background as a doctor, matched with Henry Paker's fantastic illustrations has resulted in a hilarious, insightful, and massively enjoyable book about human anatomy.
The book covers almost everything readers can imagine about how human bodies work and even how things around us interact with our bodies. Whether Kay is talking about skin or snot, pollution, puberty or periods, the balance of rigorous information and appropriate humour is spot on.
Structured with a chapter on different parts of the body, parents and teachers will also appreciate the useful appendix, because it includes a glossary and index. Readers can easily delve directly into explanations of medical terminology, pick a chapter to read or just pick a page at random to learn something incredibly disgusting and fascinating.
Henry Paker's cartoons are plentiful, adding accurate, and hilarious insight into Kay's wonderfully bizarre and beautiful facts, questions, and puzzles about how our weird bodies work.
Kay's Anatomy is aimed at readers 7 and over. It provokes curiosity, never oversimplifying, and is a brilliant example of learning through laughter.
Reviewed by Angela Brown