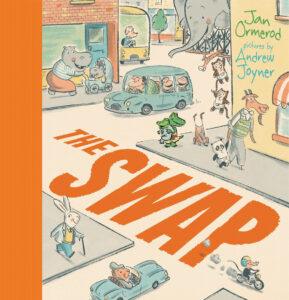 WINNER – EARLY CHILDHOOD CATEGORY
ORMEROD, Jan: THE SWAP
Illustrated by Andrew JOYNER
Little Hare Books, Hardie Grant Egmont. ISBN: 9781921541414, unpaged
Caroline is jealous of her dribbly little brother and when she is left in charge she tries to swap him at the Baby shop. She trials several replacement baby brothers and finds fault with them all. Her own baby brother may not be so bad after all. The playful language in the book makes clever use of onomatopoeia, alliteration, repetition and simple rhythm, which creates a joyous, read aloud text. The detailed and expressive art, a delightful homage to Richard Scarry, provides multiple opportunities to engage with Caroline's dilemma. As well as resonating with well-known children's stories, the illustrations offer rewarding vignettes for observant readers.
HONOUR BOOKS
BRIAN, Janeen: I'M A DIRTY DINOSAUR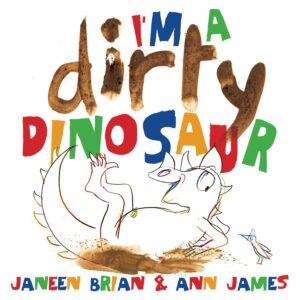 Illustrated by Ann JAMES
Puffin Books, Penguin Group Australia, ISBN: 9780670076154, unpaged
The author uses sharp, lilting language to convey the light-hearted, fun filled celebration of guilt free playing in the mud. The magic pencil and watercolours of the illustrator's seemingly effortless outline drawings, which imbue the dinosaur with so much personality, augment the text. The mud-splattered pages are constructed from real mud which gives an air of authenticity to the action. Double and single page layouts add to the visual delight as the reader and listener are taken on a joyous dinosaur romp. The bright engaging cover, the thicker shiny pages through to the 'let's start again' endpapers, make this book a delight to be shared with younger children.
GLEESON, Libby: BANJO AND RUBY RED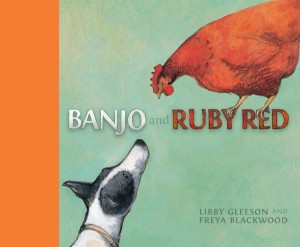 Illustrated by Freya BLACKWOOD
Little Hare Books, Hardie Grant Egmont, ISBN: 9781921541087, unpaged
An unlikely friendship between Banjo the dog, who gets the chooks into their pen at night and Ruby Red the independent chook, who prefers to be different, features in this heart-warming story. Deceptively simple composition and design capture the chaos of the evening chook round up and the restrained colours effectively highlight the nostalgic rural scenes. Blackwood uses multiple techniques including framing perspective and point of view to progress time across the page, creating a simple suspenseful story that comes to a satisfying conclusion. The elegant brevity of language carries the action along with every word carefully selected for maximum impact. The inviting cover illustrations and endpapers, would appeal to young children.