Coral Vass (text) and Nicky Johnston (illustrator), Jørn's Magnificent Imagination, EK Books, October 2022, 32 pp., RRP $24.99 (hbk), ISBN 9781922539144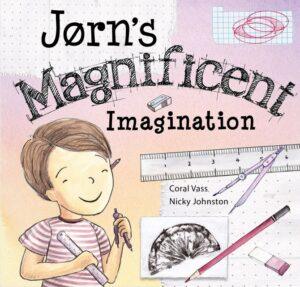 Jørn's Magnificent Imagination tells the story of the architect who designed the Sydney Opera House.
Author Carol Vass takes the reader is on a journey throughout Jørn's life, including his childhood where his interest in ideas begins and flourishes, influenced by the things around him – swans, flowers, seashells, even his orange peels at breakfast.
As he grows Jørn's ideas grow too until he has his most magnificent idea yet. Throughout his life not everyone had loved his ideas, but the support of his parents and his own self-belief allowed his imagination and creativity to prosper.
Nicky Johnston's illustrations are warm and inviting, with interesting elements such as sketches, diagrams, and movement to support the story.
Based on a true story, this book highlights the importance of embracing your dreams, believing in your abilities, and the power of new ideas. Teachers Notes are available at the publisher's website.
The architect's gift to society is to bring joy to the people from the surroundings they create – Jørn Utzon.
Reviewed by Raquel Mayman