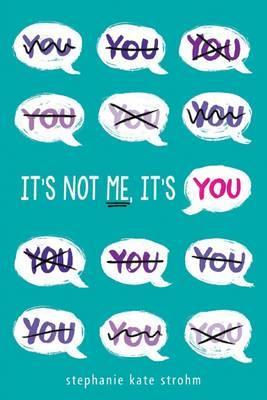 Stephanie Kate Strohm,  It's Not Me, It's You, Scholastic Australia, 1 Dec 2016, 288pp.,  $16.99 (pbk),  ISBN: 9781743812211
Avery Dennis is approaching the end of her high school career. She is a smart and popular girl, President of the Prom Committee, involved in every activity under the sun, and she has never been without a boyfriend. Ever. Until now. Luke Murphy has just dumped her. Just before the prom. Obviously, this is serious!
Well, not really. But it is a light-hearted, perhaps even silly, start to a funny book that will appeal to many teens. In an unlikely twist on the school assignment plotline, Avery decides to investigate her whole dating history in order to discover what could possibly have led to this disastrous situation. It is thus presented as an oral history project, addressed to a long-suffering History teacher. As a written record of this investigation, the book collects the comments of those interviewed. This includes Avery, her close friends who are assisting, most of her old boyfriends, and many observers, friend and foe, who have something to add on the subject. Perhaps most important of all is Avery's long time science lab partner, Hutch, who she respects as a disinterested scientific observer. Not quite as disinterested, it turns out, as either she or he thinks. Avery also adds editorial comment along the way.
It was pleasantly surprising to get caught up in this book which I expected to be pure fluff. It is light and fun, but along the way Avery does prove to be a protagonist who has grit and learns about herself and others. The wider cast of characters also has a few stars, such as science nerd Hutch, and Avery's best friend, Coco. The prom theme goes on in the background as a mini revenge drama, keeping the friends problem-solving on the hop, whilst some home truths do emerge from the main investigation. There are ongoing motifs which take us out of the purely high school environment, such as Avery's obsession with Audrey Hepburn and Roman Holiday, and Coco's encyclopaedic knowledge of the life and times of President Kennedy, which provides numerous comparisons she can't resist pointing out along the way.
The format works surprisingly well once you are in the swing of the story. It would provide good material for reader's theatre, examining voice, and character development for drama, as well as being a good title for reluctant teen girl readers especially.
Reviewed by Marita Thomson