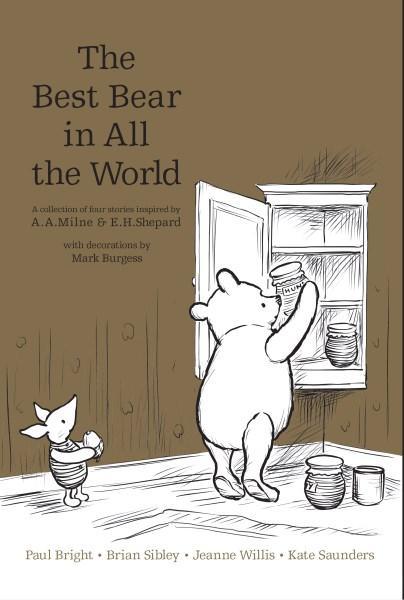 Kate Saunders (text), Brian Sibley (text), Paul Bright (text), Jeanne Willis(text), Mark Burgess (illus.) The Best Bear in all the World,  Hardie Grant Egmont, 1 Oct 2016,  128pp.,  $29.99 (hbk),  ISBN: 9781405281904
This publication is the latest in a new series of hardcover classic editions celebrating the 90th anniversary of Winnie-the-Pooh in 2016. The books are beautifully designed, and Mark Burgess has provided pleasing illustrations in the style of E.H. Shepard. These new stories are authorised sequels to A.A. Milne's original books and, as such, are written and illustrated in keeping with the familiar style. This publication follows the first authorised sequel, Return to the Hundred Acre Wood.
The four stories are each written for a season, and include the familiar characters as well as the addition of one new character. Inspired by a photo of A.A. Milne and Christopher Robin playing with Pooh bear and a penguin toy, Brian Sibley developed a rather reserved character called Penguin. A winter visitor to the Hundred Acre Wood, there is a delightful episode in the snow where Christopher Robin invites the friends to take turns on his toboggan. Penguin discovers he can go tobogganing without a toboggan, and slides down the hill over and over to the delight of all.
I was a bit sceptical of the idea of modern sequels to the beloved Pooh stories, but must admit to having been won over. Pooh and Piglet fearing an unseen dragon, Eeyore suspecting another donkey of stealing his thistles, and the friends journeying through dark parts of the Wood in search of The Sauce of the Nile are all tales fitting for Milne's characters. And as for Penguin, his polite and tentative entrance into the company of Pooh and friends is just perfect.
This is a book for reading aloud, or for independent readers to curl up with alone. It would serve just as well as an introduction to Pooh or as a special treat for a fan of the originals.
Reviewed by Marita Thomson