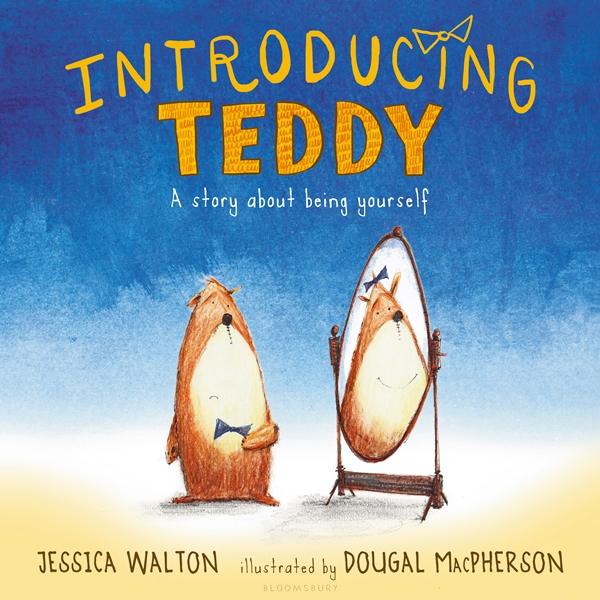 Jessica Walton (text), Dougal MacPherson (illus.), Introducing Teddy, Bloomsbury/Allen & Unwin,  June 2016, 32pp., $24.99 (hbk), ISBN 9781408877623
Errol and his teddy, Thomas, play together every day until one day Thomas seems depressed and sad. While Errol tries his best to cheer up his companion, Thomas  is worried about telling him what the problem is as he fears losing his friend. After Errol's reassurance that they will always be friends, Thomas reluctantly admits that in his heart he has always been a girl teddy not a boy teddy and wishes to be called Tilly. Errol respects his teddy's wishes stating, "I don't care if you're a girl teddy or a boy teddy! What matters is that you are my friend." Their friendship remains and they continue doing the same things as before while the smile on Tilly's face reveals the joy she feels in her new identity. Soon they are joined by their free-spirited friend, Ava, who has built a robot for companionship. Ava tosses away her hair ribbon and when Tilly shifts her bow tie to her head as a hair ribbon, Ava encourages Tilly to wear whatever makes her happy. The story ends with a happy gathering of the friends enjoying each other's companionship and differences.
Introducing Teddy ventures into the difficult and controversial area of gender identity in young children. Its resolution is joyful and an atmosphere of acceptance and happiness pervades. Thomas' relief at being able to tell the secret that had limited his joy in life is palpable in the energy and enthusiasm that infuses Dougal MacPherson's illustrations in the later stages of the text when Tilly is free to be herself. While such changes of gender identity in real life may be more complicated and harrowing, Introducing Teddy emphasises the importance of friendship and of accepting a person for who they are. Suitable for pre-school and primary age children, it broaches a complex topic with sympathy and sensitivity that will hopefully promote discussion, openness and understanding about gender identity.
Teaching Notes can be found on the Scholastic website.
Reviewed by John Nolan