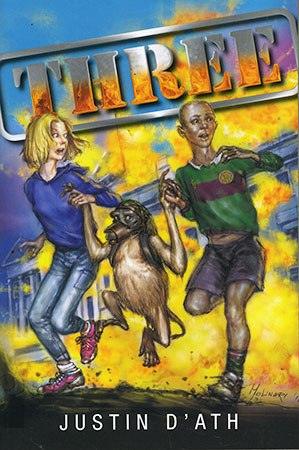 Justin D'Ath, Three, Ford Street, June 2016, 267pp., $18.95 (pbk), ISBN: 9781925272277
Sixteen year old Sunday Balewo is a budding soccer champion and son of the President of the African country Zantugan. When there is a military coup and Sunday's parents are killed, he is hunted down by coup leader, General Mbuti, who wants to play Sunday in the Zantugan's soccer team to legitimise his new regime. Sunday is also being targeted by a hybrid baboon called "Three" that can speak and is an armed suicide bomber. After a number of close encounters with Three, Sunday finds the baboon close to death, compassionately befriends the animal and a bond develops between the two. With the help of his American girlfriend and an Australian girl, Sunday and Three manage to avoid capture for some time until Sunday is finally caught by Mbuti's men. Assisted by Three, Sunday ultimately exacts his revenge against Mbuti for the death of his parents and treachery against Zantugan. The final chapter acts as an epilogue which takes the reader five years into the future and provides an overview of the intervening years and Sunday's eventual return to Zantugan as an elected President.
The short chapters in Three allow this imaginative adventure novel to move at a fast pace with constant chases and escapes providing drama and tension throughout. Sunday's befriending of Three prompts ethical questions about the treatment of animals. A Christian ethos underpins some of this debate as Sunday contemplates if the baboon can enter eternal life, and if hybrids like Three are part of God's creation or abominations that should be destroyed.
Justin D'Ath has created an unusual story that blends political drama, sport, personal struggle, teenage love and animal ethics into a tale that will suit lower secondary students.
Teacher's Notes are available on the Ford Street website.
Reviewed by John Nolan