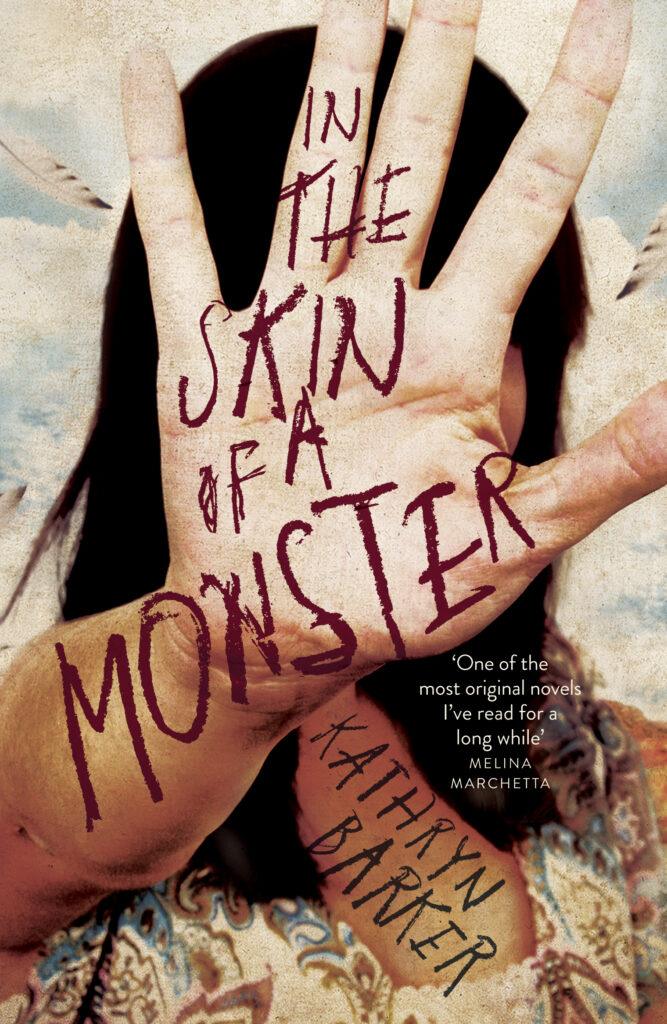 Kathryn Barker, In the Skin of a Monster, Allen & Unwin, January 2015, 304pp., $17.99 (pbk), ISBN 978 1 76011 171 7
It is three years since her identical twin sister took their father's gun to school and shot dead seven students, yet Alice and the outback town of Collector have not begun to recover. The people of the town, past friends and schoolmates, see only her sister's monstrous deed when they see Alice, and punish her for it. Alice spends much of her time walking along the highway without water in what she calls her "punishment walks", enduring headaches as a result of dehydration as, in Alice's words: "It was the kind of pain you could really get a handle on" (p.4). It is during one of these walks she notices a car following slowly behind. Alice takes little notice of the danger this might imply because she has seen what seems to be a ghostly version of her twin sister. As Alice reaches out and touches Kell, she is transported into the place of nightmares and dreams, where most of the novel is set. The nightmare Alice finds herself in mirrors the real world in many ways, but like all dreams and nightmares, things are not exactly as they should be. People are younger versions of themselves, names have changed, and there are monsters.
Lux and his best friend Ivan have been stuck in the dream place, the nightmare version of Collector, created by Kell in one of her nightmares. Lux and Ivan's mission has been to kill the monsters of nightmares, mostly all versions of the school-girl monster people dream about. As time progresses the nightmares of the people of Collector worsen, and so do the monsters. More people become stuck and the monsters begin to work together.
This intriguing story is told from two very different viewpoints of Lux and Alice. It is set in the outback town of Collector, both the nightmarish version and the real one. The outback setting is an important part of the narrative. When Alice returns to Collector after a considerable time in what appears to be a psychiatric hospital, many blame her for her sister's actions. This continues when Alice slips into the dream place, in the body of her sister. Others stuck in the dream place include Jude, Kell's boyfriend who died at the school, and a younger version of Marcus, the driver of the car following Alice out of town. His actions in the real world, seen by Ivan and shown to Lux, are an important background to this multi-layered novel. The writing is superb, cleverly showing but not telling, enabling the reader to be a part of the storytelling. Characterisation is strong and diverse, offering various perspectives of the monstrous deed committed as well as various feelings of guilt and betrayal by those close to Kell, begging to ask the question, could she have been stopped?
The well-worded text enables the reader to view the many perspectives of characters and actions.
"So Jude and Lux and the others were trapped in the nightmare version of our town, just like I'd been trapped in the real one. The only difference was I could have left. I could have left a hundred times in a thousand different ways for a million good reasons… but then again, I also couldn't." (p. 205)
I have not read a book like this before, and highly recommend it to all teenage and adult readers.
Teachers Notes can be found on the Allen & Unwin website.
Reviewed by Liz Derouet