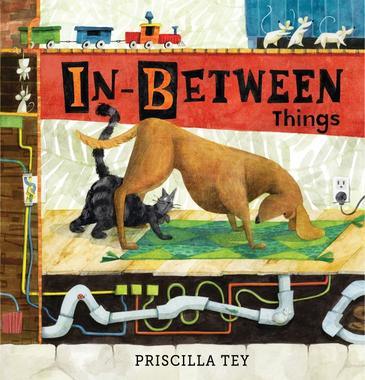 Priscilla Tey, In-Between Things, Candlewick Press/Walker Books Australia, 1 May 2018, 40pp.,  $24.99 (hbk), ISBN: 9780763689834
Author-illustrator Priscilla Tey has created a whimsical, exploration of all things in between, and the joy on each page is contagious. Starting with a simple definition- an in-between thing is a thing in the middle – the book rolls into a rollicking explanation of all things in-between, led by a scruffy black cat (neither long-haired nor short-haired?) and a curious hound with plenty of character.
The concept of in-between begins with spatial understandings– the cat is between the table that's green and the chair with the tear, while the dog is between the floor and the cat (and does not enjoy being in the middle like that!). It then moves on to other ways to understand things in-between. The in-betweenness of blended colours (green) and mixtures of solids and liquids (mud), and new in-between words (some that are real, like skorts and sporks, and others that are not – the zebrow, the inbetween of a cow and a zebra). It closes by challenging readers to search for wacky and weird in-between things; inbetween the covers of the book and beyond.
Every double page spread presents a wonderful, detailed world of in-between to explore, and the cat and dog are warm and expressive, demonstrating the in-between love-hate relationships that siblings often share! The rhyming text usually works. Sometimes it jumps out of sync, and some lines don't quite work, but the rhymes keep the story moving and it would be a very fun book to read aloud or share with a beginning reader (especially as the word in-between is highlighted on each page – perfect for shared reading experiences!).
Children between 4-8 years would love this story, and teachers will find it useful for teaching across many concepts, including English (prepositions), and Maths (sequencing, positionality, venn diagrams and more, I am sure). Don't be in-between about deciding whether this book is right for the home or school library – it definitely is worth grabbing!  You can meet the creator, Priscilla Tey, on YouTube.
Reviewed by Kay Oddone