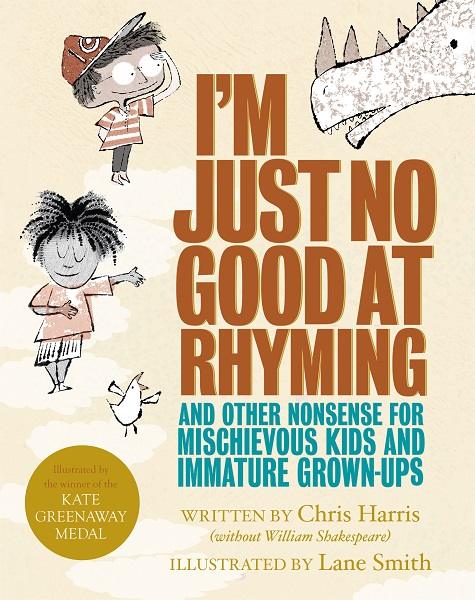 Chris Harris (text), Lane Smith (illus.),  I'm Just No Good at Rhyming: and other nonsense for mischievous kids and immature grown-ups, Pan Macmillan Australia, 31 Oct 2017, 192pp., $29.99 (hbk),  ISBN: 9781509881048
A poetry book for children. Sounds pretty straightforward. But what Harris and Smith have created is a crazy, comedic adventure with so much to discover. These poems require you to read them with your mind fully engaged so you don't miss the wonderful wordplay, fun ideas, terrific tricks and deeper themes. There's a whole poem about how a Mondae is a sundae that was left out overnight, and plenty of gross humour for kids to enjoy, such as the student who confuses his teacher so much with logic the teacher's head explodes. The titles are part of the craziness. Some are straightforward (The Race) whilst others appear to have escaped and gone crazy themselves (On My Intentions of Expanding My Experiences Eating Garden Cuisine, with an Approximate Time Frame Included).
There are poems on a wide range of topics (except dinosaurs), and they incorporate various poetry styles. Some rhyme, some really don't (even when they're supposed to), one is entirely backwards, and one is 100% infinite. (Yes, it's possible.) There is a poem you can escape from, and one where all the words declare the poet hates you, but the poem forms the image I ♥ U. Early in the book there's a poem where a roomful of hippos break a bed, then much later in the book there's a poem about someone retreating to the safety of their bedroom only to find their bed has been destroyed by hippos.  Another poem about a snail in San Francisco returns again because no one can remember the full details of the story. Some poems come with instructions on how to read them (when to shout, when to whisper). A lot of them are laugh out loud funny and all are completely engaging.
Virtually every poem is illustrated with a lively image that frames the words beautifully, and sometimes interacts with them. However, there is an ongoing argument between the writer and the illustrator throughout the book which erupts when the illustrator refuses to illustrate four poems because their titles are too silly, followed swiftly by a poem entitled I Don't Like My Illustrator, beautifully complemented by an EXTREMELY unflattering portrait of the author.
Although the emphasis is on absurd and humorous poetry (some reminiscent of Spike Milligan) there are deeper themes amongst the humour, in poems about growing older or having to share everything with a brother: the poem where the book asks to meet the reader again in 25 years' time is particularly moving. Kids will relate to many of the topics and love the crazy, interactive poems, while parents or teachers will find much to love too. This is the perfect book for filling in unexpected free time or for introducing poetry to young readers.
PS Watch out for the page numbers… they are not what they seem!
Reviewed by Rachel Le Rossignol