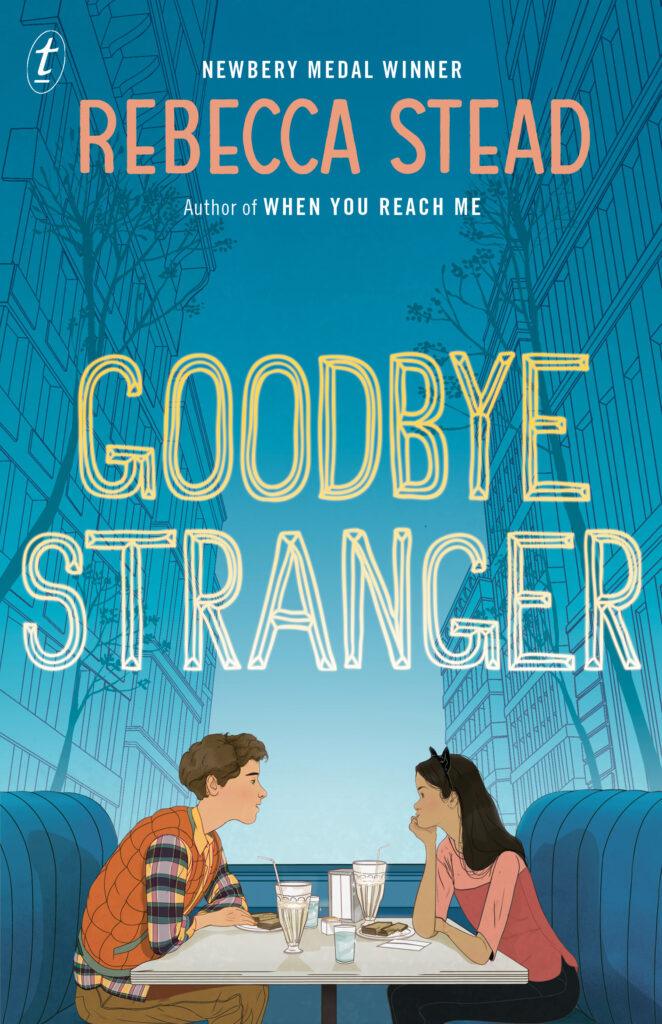 Rebecca Stead,  Goodbye Stranger,  Text Publishing,  5 August 2015,  304pp.,  RRP $16.99 (pbk),  ISBN 9781925240320
Goodbye Stranger falls into the very clear category of contemporary realism for the Year 7 to 9 group. This is a difficult age and a difficult area to try to classify books. There are all sorts of unwritten no-no's for young people aged between about 11 and 14, including obvious ones, such as strong language and graphic sex, drug use, and gratuitous violence. But others are not so clear cut, and it's these areas where parents and educators think carefully about each individual tween before putting a book in his or her hands.
Stead's book deals with one of these sensitive areas. The main character Bridge has two best friends, Tabitha and Emily. While Tab becomes caught up in saving the world and the idea of feminism and politics, Bridge joins tech crew. Emily, growing physically faster than both her friends, starts a texting game with a slightly older boy, Patrick. She inevitably, unfortunately, sends him a photo of herself, not naked, but certainly compromising. These girls are young, and it's a bit scary to think this might be going on at such a young age.
Stead deals with the fall out in a realistic and compassionate way. Emily learns quickly about the terrible consequences of her impulsive act. We are given many viewpoints and readers are asked to sort through all the mess and realise there are no winners in such a circumstance. It also leaves us with the understanding that the only way to deal is to be strong, and work through it. Emily's reputation is in ruins, and Tabitha and Bridge behave just as they should: They stand by her, defend her and walk with her.
The novel is about more than just the way technology can be misused. It's a lot about friendship and first loves. There is an extra bit with Bridge's older brother, Jamie, and a toxic friendship he endures, and a second person narrative voice who remains unknown until the end. Bridge's near death experience when she was younger, explained right at the start, weaves a thread through as well. It's subtle and doesn't really end with any great dramatic point, but it ties in beautifully with many of the major themes.
This is a layered, textured read, and adds to Rebecca Stead's growing list of consistently high quality novels. Even though the content is sensitive, it is not dealt with flippantly or negatively. Highly recommended.  Teaching Notes can be found on the Text Publishing website.
Reviewed by Trisha Buckley