Jane Godwin (text) and Sara Acton (illustrator), I'll Always Be Older Than You, Hardie Grant Egmont, April 2020, 32pp., RRP $24.99 (hbk), ISBN 9781760129781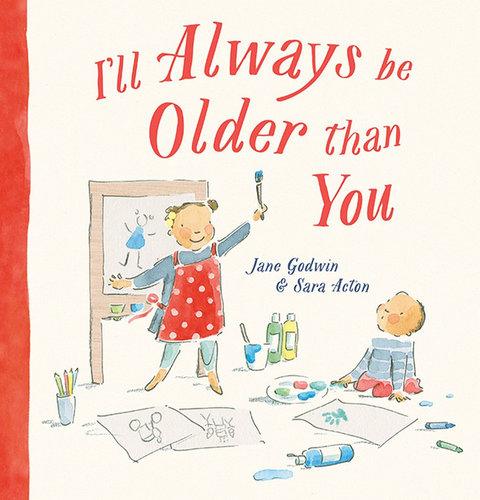 I'll Always Be Older Than You is a kind, warm, delightful poem from an older sister to her younger brother about how their relationship will grow and develop as they mature. From the masterful Jane Godwin and with soft, pastel illustrations from Sara Acton, this book will reflect the sibling relationships in many families.
One of the reasons it touched me so much is that I have a daughter and a son who are 4 years apart in age, just like the sister and brother in this story, and much of what is depicted in this story has happened in our home. The first page where the sister is doing a handstand and the baby brother is curled up asleep on the floor reminds me of a moment that we caught on camera in our living room when our youngest was only a few days old.
In the story, the older sister assures her brother that she will be there to help him in important moments in his life: learning to eat, to walk and to play. She will be there to kiss him when he cries, to push him on the swing and to hold his hand in the night. Jane Godwin has perfectly captured the way older sisters are towards their younger siblings. They are willing to share the things they don't need anymore, they will remember to bring back a treat after an outing with grandma, they will sometimes get fed up and bring a crying baby back to mum, and they will organise games and parties. Jane also helps us see the adoration younger siblings have for their older siblings.
These days my youngest child is 4 years old, and it is magical to see him patiently listen as my 8-year-old daughter stumbles reading books aloud to him, or to watch them play schools as she wants to help him be ready for big school next year. And one day, when they are both grown up and the little brother has outgrown her, she can be assured that she will always have an ally in her brother.
All of these feelings and hopes are expressed so wonderfully in this charming and endearing picture book. I'll Always Be Older Than You is the perfect book for a family who is getting a new little addition, especially if the older sibling is not thrilled with their new reality. It might open up the conversation about what an older sibling can do for the younger sibling and just how strong that bond can be.
I'll Always Be Older Than You has been Notabled in the 20201 CBCA Book of the Year Awards, in the Early Childhood category.
Reviewed by Cherie Bell