Armin Greder, Diamonds, Allen & Unwin, August 2020, 36 pp., RRP $29.99 (hbk), ISBN 9781760877040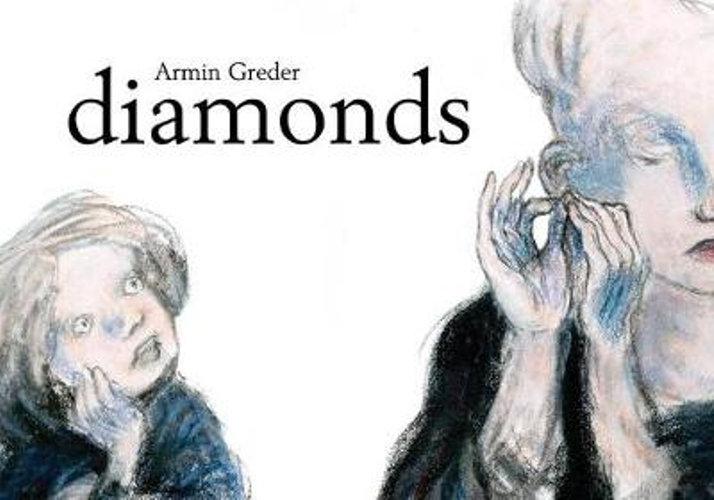 Armin Greder creates books that live in a liminal space between picture books for children and pieces of art for adults. Although, who is to say which books are simply "for children" and what art is "for adults" anyway? His previous works have touched on refugees, animal cruelty, imagination, and justice.
Diamonds begins with a conversation between a white child, Carolina and mother about a pair of diamond earrings. Her mother tells Carolina that the diamonds have been mined and that she won't find any if she digs into her own garden. And yes, diamonds are mined in Africa, where her nanny, Amina is from. But no, Amina doesn't own diamonds. Here, the text stops and the drawings take the story. We see the brutalised miners digging for diamonds, which when found, make their way through many hands until they reach her mother. Carolina awakes and is comforted from her nightmare by Amina.
This book truly does depict a nightmare – the diamond industry and the greed, devastation, and exploitation within. Greder's illustrations deftly capture the haunting experiences in vignettes akin to those in Shaun Tan's The Arrival.
Teachers could use this book with their older students to discuss the exploitation of peoples around the world who work in industries producing mass goods. The afterword by Francesco Boille would help to provoke discussion and analysis of the text and illustrations. It is vital that we consider Greder's work as both picture book and art, meant for both children and adults. We all need to face the pessimistic, thought-provoking, urgent messages his work contains.
Diamonds was Notabled in the 2021 Book of the Year awards in the Picture Book category.
Reviewed by Madeleine Crofts