Claire Saxby (text) and Jess Racklyeft (illustrator), Iceberg, Allen & Unwin, Feb 2021, 24 pp., RRP $24.99 (hbk), ISBN 9781760526047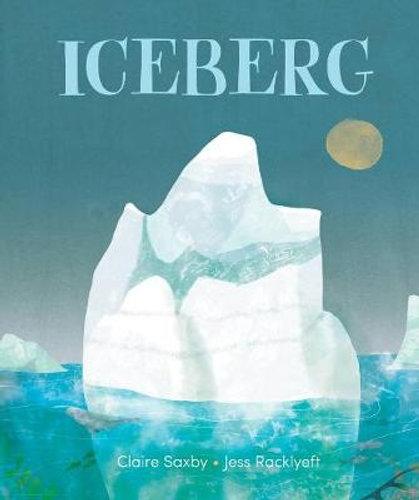 This world is not empty, nor ever still. Far from the places we know, it feels everything we do.
Antarctic nights and star-filled skies signal the start of our journey as we follow an iceberg through seasons after it plunges into the ocean. What follows is a unique exploration reminding us of the natural beauty and fragility of the world.
Claire Saxby compels us to "look closer" at the effects of climate change. Her text is both narrative and non-fiction, effortlessly creating a wonderful reading experience for teachers, librarians or parents while also providing an educational, fact-learning feast for children in kindergarten to middle primary. The iceberg takes on a life-form of its own, creating a deep connection to its journey from winter to summer and the animals in its surrounding environment.
Accompanying the captivating text is Jess Racklyeft's wonderland of tones in blue, green and white as we follow the iceberg on its seemingly gentle ocean journey. The darker tones of black in the night sky and on the ocean floor perfectly capture the remoteness and yet undiscovered parts of the world, and make this a visual treat and potential art activity exploring colour and perspective.
Iceberg feels masterful both in its literary and visual accomplishments. Closely framed with the Year 3 Australian curriculum is an added set of teacher's notes (link at bottom of page) that will prove invaluable in educating children across subjects such as English, Visual Arts, Humanities and Social Sciences, and Sustainability.
Claire Saxby and Jess Racklyeft are an award-winning duo who have created what is sure to become an unforgettable picture book, reminding us that the world is not empty but full of life we may not always see.

Reviewed by Shelley Stephens