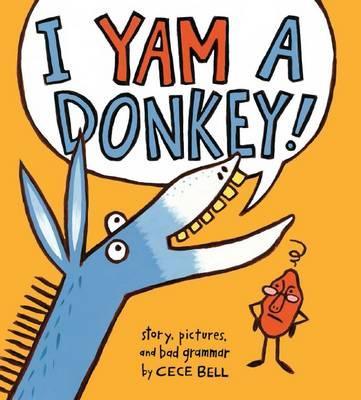 Cece Bell, I Yam a Donkey, Koala Books/Scholastic Australia, 1 Nov 2015,  32pp.,  $14.99 (pbk), ISBN 9781742761701
Children who have no trouble with grammar and pronunciation may find this picture book fun but it's hard to be convinced that this nonsense story would be the most helpful way to assist those having such difficulties.  The constant misunderstandings between a yam and a donkey over these problems could well lead to further confusion rather than clarification. The black comedy of the Roald Dahl-like ending is as unexpected as it is amusing but for this reader that is the book's strongest point.
The colourful, cartoon-style illustrations complement the humour, and the large typeface is easy to read.
This American author has also written a book for children, El Deafo, about her loss of hearing at the age of four and her experiences with hearing aids.
Suitable for ages 3-7.
Reviewed by Elizabeth Douglas