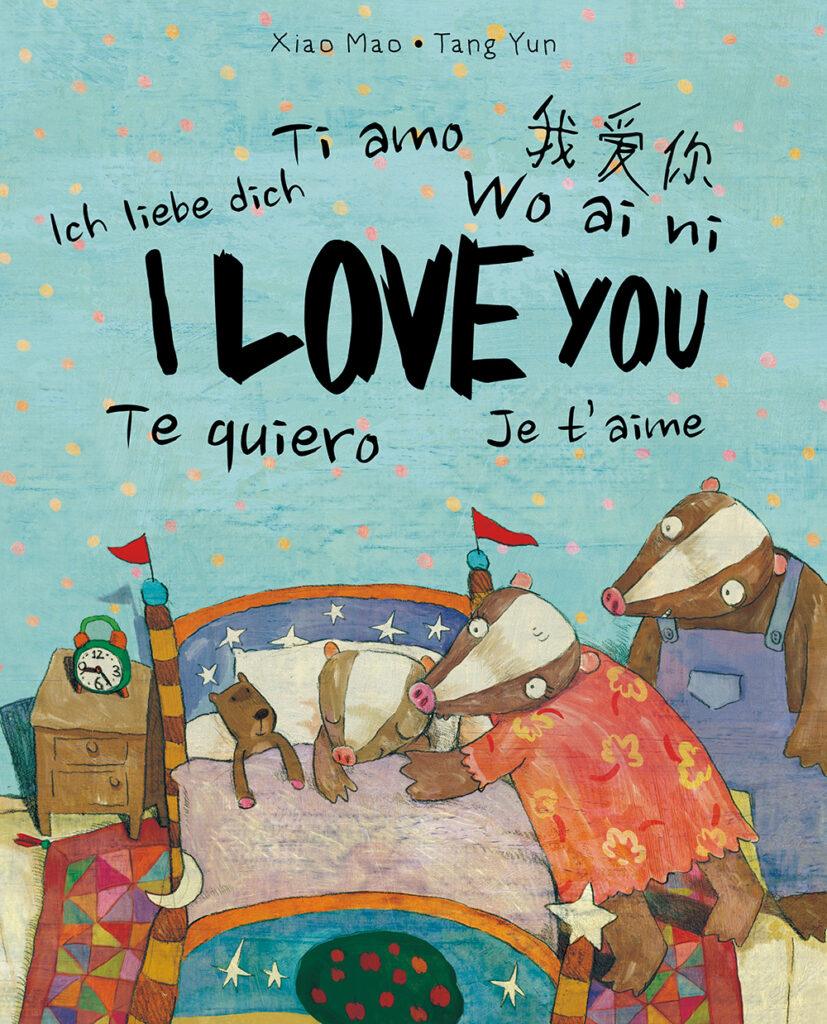 Xiao Mao (text) and Tang Yun (illus.) I Love You, New Frontier, April 2017, 32pp., $24.99 (hbk), ISBN 9781925059762
Actually I Love You is not the full title of this lovely picture book: its full title is Ti amo, Ich liebe dich, Wo ai ni. I LOVE YOU, Te quiero, Je t'aime.
It is the story of a lesson (or a skill set, as we say nowadays) that Little Badger learns in Ms Giraffe's class. Ms Giraffe writes I love you in Chinese, Italian, French, German and Spanish on her white board and teaches her six wide eyed students how to say them. She promises Little Badger that
'when you say it out loud, the most wonderful things can happen.'
Little Badger practices her new words – to the school, plants, weather conditions, birds, her house, food, the furniture, her toys and most importantly to her parents.
The wonderful things that happen, from this, are that Little Badger gets great enjoyment from her belongings and the things around her; she makes her mother feel appreciated; her parents lean in close and whisper I love you to each other (in different languages) and at bed time they tell little Badger that they love her too.
I Love You is suitable for children aged three to six. The themes covered include: different languages, love, teaching and the school environment and family.
The pictures are full of rich colours and are very entertaining. Miss Giraffe is very tall with neatly plaited hair and short arms, so I had a wonderful time guessing what contortions she went through to do her hair before class. Little Badger takes her new underpants to the bath with her and the bird Little Badger holds to tell him/her that she 'Je t'aime' looks rather uncomfortable at the idea. Perhaps the bird does not like Little Badger's teeth?
I Love You is a lovely book for bed time.
Reviewed by Katy Gerner