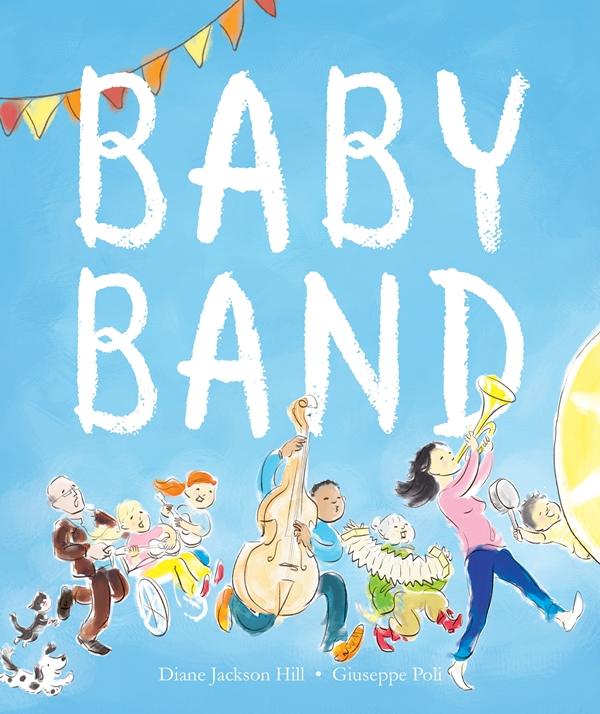 Diane Jackson Hill (text) Giuseppe Poli (illus.)

Baby Band,

New Frontier, April 2017, 28pp., $24.99, (hbk) ISBN

978192505977
Baby Band is a beautiful picture book about a group of people who lived in unchanging routines in an apartment block. That is until one of the inhabitants, a young woman, has a baby: a baby whose cries could be heard in every apartment on level eight and who also likes to bang a lid and a chunky pot together.
The clang of the pot and the 'ahhh!' from the young mother start a rhythm that unites the inhabitants who up until then 'did not know each other' and who 'never spoke– not even to say hello'. The grandmother in 8B squeaks her rocking chair, the teenager in 8C stomps, the sisters in 8D grate carrot, the teacher in 8E adds some cha-cha-chas and doo wahs and the window cleaner adds a rest break, which is necessary as all musicians know.
The rhythm and the alliteration are lovely to read aloud, e.g.:
'Way down the passage the shimmied and they shuffled

And onto the rooftop they hooted and they hustled.'
There is also reference to an old nursery rhyme 'Little Boy Blue' in the story:
'But where was that baby?

'He had not made a peep.

He was snug inside the big bass drum.

Fast asleep.'
Baby Band's characters are diverse, which makes the story even more interesting: one of the sisters in 8D is in a wheel chair, the grandmother appears to be Italian, the teenager is dark skinned and the teacher has a large mobile of a cow jumping over the moon in his house.
The illustrations themselves are also lots of fun; different instruments appear throughout the sketches; my favourites being: the window cleaner using a raised guitar case to rest his tea cup and tea pot on and the grandmother dancing on a chimney with a squeeze box. Animals also appear – there is a very funny picture of the grumpy teacher and his cat and dog whose singing session had obviously (again) been interrupted by the baby's cries.
Baby Band is an enjoyable read that teaches children about music and community and there is much to discuss in each picture. 
Reviewed by Katy Gerner