Michael Rosen (text) and Robert Starling (illustrator), I Am Angry, Walker Books, July 2021, 32 pp, RRP $27.99 (hbk), ISBN 9781406396652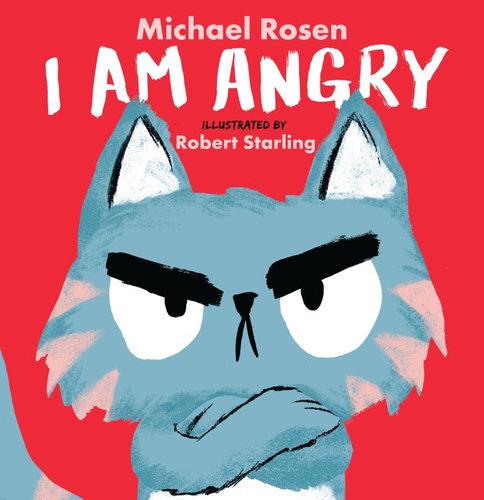 Nearly every parent has experienced it: a toddler who flails about without warning (usually in the grocery store or mall), screaming at the top of their lungs because they can't quite put a word to what they're feeling. Hunger? Discomfort? Fatigue?
Cat is having a bad day but doesn't quite know how to deal with complex emotions like anger, so finds some creative ways to express it: I'll … mash up names, grind up games, burst balloons, squash the moon, make giants run, terrify the sun… (Cat sounds like me when someone takes the parking spot that I'm waiting for with my indicator on … but I digress.)
The first in a new four-book series, I Am Angry brilliantly captures toddlers' sudden, seismic mood shifts, from the stirrings of anger to full-blown outbursts. On the upside, no matter how intense and interminable the tantrums may seem, they eventually subside.
The text is from the poem of the same name by British author and Children's Laureate (2007-2009), Michael Rosen, published in his poetry collection, A Great Big Cuddle: Poems for the Very Young. Rosen's clever rhyming couplets are given new life by Robert Starling's vibrant and irresistible illustrations. In fact, if we were judging for impact, Cat's menacing stare on this bold cover would be my hands-down winner.
A fun, relatable story that can be enjoyed by little and big people, and one that would make a great animated series.
Reviewed by Maura Pierlot