Matt Cosgrove, Macca the Backpacker, Scholastic Australia, June 2021, 24 pp., RRP $17.99 (hbk), ISBN 9781760978464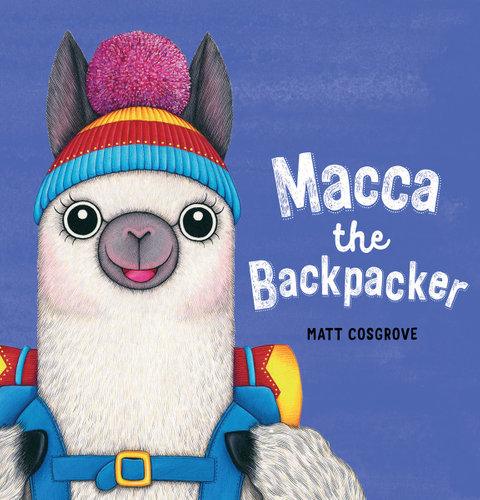 Another great rhyming romp from the friend of all alpacas and master of coloured pencils, Matt Cosgrove. After introducing readers to Macca and his mates (great for readers who are new to the series), the author sends him off "on a quest to seek the highest peak". Adventures are exciting to dream of, but the reality often proves to be hard work and lonely. It is his friends' kind words, gifts and packed snacks that keep the struggling Macca going when times are tough.
Closely-cropped comic book style layout, clear colours and bouncy text that accentuates dramatic words, this book will appeal to a wide age range including older, perhaps reluctant readers. Cosgrove's confident and humorous compositions weave modern references through this classic 'journey story' that explores themes of friendship, perseverance, and confidence. My favourite page shows our hero's selfie photos and texts with his friends. True to form there are classroom craft activities, plushies and colouring sheets to go with this book which can be found on the author's website.
Reviewed by Liz Anelli