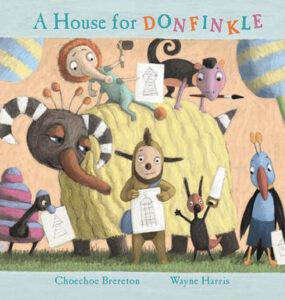 BRERETON, Choechoe (text) Wayne Harris (illus.) A House for Donfinkle Walker, 2014 unpaged $24.95 ISBN 9781921720536 SCIS 1657963
Donfinkle, with the help of Doggle, is building a home.  He is very happy with it and the Woobles seem happy too.  But the arrival of a critical Flooble causes Donfinkle to doubt his pride in his house and he sets about changing it to suit the Flooble's opinion.  Progressively a Mooble, Gooble and Blooble arrive and suggest further changes, which Donfinkle carries out.  Finally Donfinkle can see that the changes have made his house jumbly and ghastly and realises 'From now on I'll trust that I know what is right'.  He sets about rebuilding his house as it had been, with the help of all the creatures.
Told in inventive rhyming text, this is a joyous book about friendship and learning to trust your own judgements and decisions.  The digital illustrations in pastel tones have a blurry quality to them that suits the fantasy world that the creatures inhabit.  The scene near the end showing all the creatures resting after their work is in a richer palette and reflects the glow from the fire.  This book could be read on several levels by all ages.
reviewed by Julie Long