Alison McLennan (text) and Erin Dunne (illustrator), Hotel for Bees, State Library Queensland, December 2020, 32pp., RRP $24.95 (hbk), ISBN 9781922467096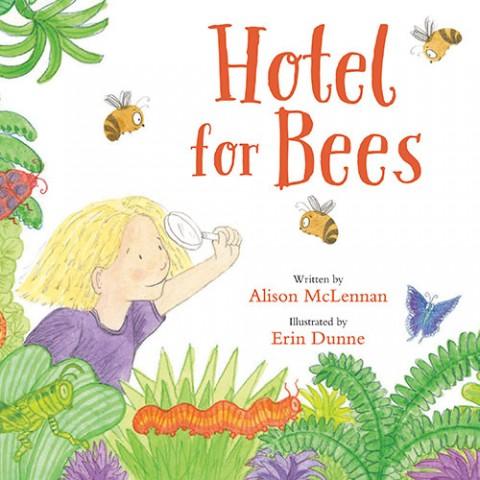 I was thrilled to review three of the lovely new picture books produced by State Library of Queensland as part of its First 5 Forever early literacy program.
One of these is Hotel for Bees by Queensland based author, Alison McLennan, and illustrator, Erin Dunne. It tells of a family project to build a bee hotel, and simultaneously help little Benji come to appreciate insects and fear them less. There is a strong sense of enthusiasm and pleasure in this project, as the family gather the materials they need and work together on planning and building the bee hotel.
The story also supports early literacy vocabulary building by including infrequently used words, which are explained through dialogue or accompanying images.
I especially love the illustrations with the impression of pencil drawings, coloured in and shaded in a range of vibrant colours. A Queensland suburban feel is beautifully achieved with images of lush tropical garden foliage and colourful native flowers and a Queenslander home. From the endpaper's images of construction tools and materials, to the imagery of the garden environment and insects, to the contented, enthusiastic and engaged facial expressions and the colourful diagrams of the bee hotels, the images convey a strong sense of joy, activity and satisfaction.
Whilst I found the narrative interesting and pleasant, I'm concerned that it's a bit long and lacking in plot tension to hold the attention of kids younger than 4. But I certainly recommend it for 4 to 6 year olds who can understand the book's environmental message and appreciate a sense of achievement and satisfaction in a collaborative project.
Reviewed by Barbara Swartz