Alex Milway, Hotel Flamingo: Carnival Caper, Piccadilly Press, February 2020, 192 pp., RRP $14.99 (pbk), ISBN 9781848128071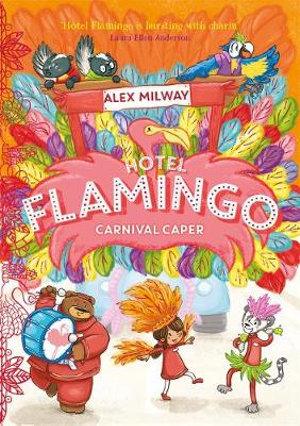 For the creatures of Animal Boulevard there's always something to celebrate. This time, it's the autumn carnival. Hotel Flamingo is to lead the big parade, assuming they can make an eye-catching float in a week – not easy when biggest-band-in-the-world, the Nocturnal Animals, is rehearsing there all night, leaving hotel staff and guests frazzled.
There is much to love in this third book in the charming Hotel Flamingo series, featuring Anna and her motley crew of animal friends. The heartwarming storyline, supported by well-drawn characters, deftly addresses tolerance, respect, empathy, cooperation and friendship. There's even a subtle reference to real life issues when Anna and her team feed, groom and house homeless sheepdog, Wilbur, cleared off the streets by heartless Mr Ruffian of the rival Glitz hotel.  
Milway's clever cartoon-like illustrations bring the story and unique characters to life, like anxious skunks, Mr and Mrs Kunkworth, the fabulous flamingo, Ms Fraganti, and grumpy Madame Le Pig, to name just a few. In the opening pages, a tiny top-hatted creature challenges readers to find the twenty times it appears throughout the story, which will keep young ones busy. Although the books stand alone and can be read in any order, a bit of background about Anna and her team (apparently, she inherited the dilapidated hotel from an elderly relative in book one) would have provided some useful context.
As young reader Finn, age 9, says on the inside cover: 'I really like the way Anna never gives up.' One of many great takeaway messages from this fun-filled, uplifting story, where the characters learn to work together and support each other. If there are any vacancies (and room service, thanks to social distancing), I'd happily hole myself up there for a while.
Reviewed by Maura Pierlot