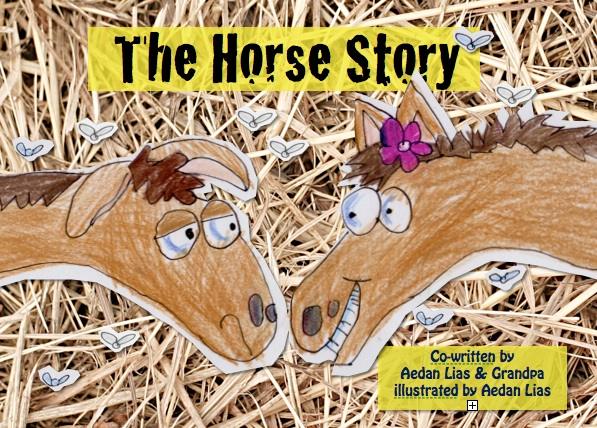 LIAS, Aedan & Grandpa (text) Aedan Lias (illus.) The Horse Story ARTSmiles Here P/L, 2014 23pp $10.00 pbk ISBN 9780992390648
When Aedan confides in his Poppy that he is miserable because he finds reading difficult, Poppy shares with him a special story about resilience and perseverance.  The Horse Story tells us about two very similar, yet very different horses.  One horse, aptly named Give Up, thinks everything is too hard.  He finds excuses to quit and doesn't imagine he will ever be a winner.  The other Horse with an optimistic outlook is named Try Again.  Despite having never placed in any horserace she has entered, Try Again doesn't quit, she perseveres, competing again and again until one day, Try Again comes in first place.  Aedan reflects on the story his Poppy has shared and decides that he'd rather be more like Try Again than Give Up.
This story, which has been shared for generations in the Lias family, is delightfully retold by 10 year old Aedan.  The story communicates an emotion shared by many young children of feeling discouraged and wanting to quit.  The rudimentary crayon sketches used throughout the book are the work of the talented 10 year old author and their simplicity provides another level to which children can relate to the characters and the unfolding tale.
reviewed by Kerri Bennett